Black Knives Matter
ON December 27, eight people were wounded in a mass stabbing in Anaheim, California. Though the killings were acknowledged to be "gang related," the media are almost universally failing to mention the race of the attackers. Many talking heads have commented on the fact that "gun control" would have had no effect on the behavior of the knife-wielding feral animals, but they avert their eyes from the feral animals themselves. Media report summary follows:
The incident occurred around "1:20 a.m. in the 400 block of Sycamore Street," according to reports.
According to the Los Angeles Times, Anaheim Police Department Sgt. Daron Wyatt said all eight victims were transported to a hospital–two of whom were in critical condition–and all the victims were in stable condition by Sunday night.
The youngest of the victims was 16 years old, while the oldest was a 45-year-old male. The rest of the victims "were in their late teens or early 20s."
The stabbing suspects numbered six in total and fled "in a white Toyota Camry." An officer responding to the mass stabbing was able to locate the Camry and apprehend the suspects, all of whom "ranged in age from 17 to 24."
No firearms were reportedly involved.
* * *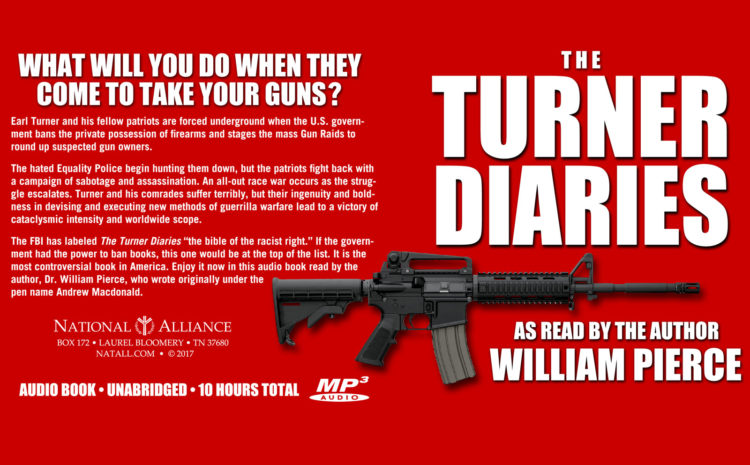 Listen: Turner Diaries commercial
OUR NEW, remastered audio book edition of The Turner Diaries read by the author, Dr. William Pierce, is now available. You can get your copy now — the CDs are are shipping as soon as orders come in.
The original recordings, made by Dr. Pierce and Kevin Strom on reel-to-reel tape in 1995, had been digitized in the early 2000s, but that digitization process was primitive compared to what we are capable of today; we have remastered this important work using the latest software — and we did it the careful, slow, difficult, craftsman-like way — the way Dr. Pierce would have wanted it.
We are proud to offer you the result, which can be ordered online via http://natall.com/td or by postal mail from National Alliance, Box 172, Laurel Bloomery TN 37680 USA. The fidelity of the disc is excellent: On a good speaker system, it sounds as if Dr. Pierce is with you, reading his book to you personally. There is nothing quite like hearing the man who created The Turner Diaries read it to you himself. And, by purchasing this mp3-CD, you will be supporting the important work of the National Alliance.
Listen: Turner Diaries commercial
* * *