What Americans Thought of Jewish Refugees on the Eve of World War II
This was a saner, Whiter America.
THE RESULTS of the poll illustrated above by the useful Twitter account @HistOpinion were published in the pages of Fortune magazine in July 1938. Fewer than 5 percent of Americans surveyed at the time believed that the United States should raise its immigration quotas or encourage political refugees fleeing fascist states in Europe — the vast majority of whom were Jewish — to voyage across the Atlantic. Two-thirds of the respondents agreed with the proposition that "we should try to keep them out."
To be sure, the United States was emerging from the Great Depression, hardly a climate in which ordinary folks would welcome immigrants and economic competition. The events of Kristallnacht — a wave of anti-Jewish pogroms in areas controlled by the Nazis — had yet to take place. And the poll's use of the term "political refugees" could have conjured in the minds of the American public images of communists, anarchists and other perceived ideological threats.
But look at the next chart, also tweeted by @HistOpinion. Two-thirds of Americans polled by Gallup's American Institute of Public Opinion in January 1939 — well after the events of Kristallnacht — said they would not take in 10,000 German Jewish refugee children.
* * *
Source: read the full story at the Washington Post
* * *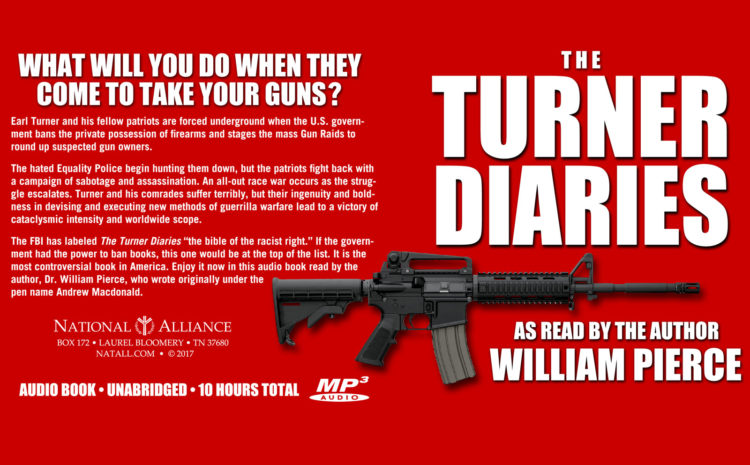 Listen: Turner Diaries commercial
OUR NEW, remastered audio book edition of The Turner Diaries read by the author, Dr. William Pierce, is now available. You can get your copy now — the CDs are are shipping as soon as orders come in.
The original recordings, made by Dr. Pierce and Kevin Strom on reel-to-reel tape in 1995, had been digitized in the early 2000s, but that digitization process was primitive compared to what we are capable of today; we have remastered this important work using the latest software — and we did it the careful, slow, difficult, craftsman-like way — the way Dr. Pierce would have wanted it.
We are proud to offer you the result, which can be ordered online via http://natall.com/td or by postal mail from National Alliance, Box 172, Laurel Bloomery TN 37680 USA. The fidelity of the disc is excellent: On a good speaker system, it sounds as if Dr. Pierce is with you, reading his book to you personally. There is nothing quite like hearing the man who created The Turner Diaries read it to you himself. And, by purchasing this mp3-CD, you will be supporting the important work of the National Alliance.
Listen: Turner Diaries commercial
* * *