Philadelphia: Sickening Dungeon Case Was Part of Multi-City Operation
Welcome to the new diverse, rainbow America: Black woman and her gang imprisoned the mentally disabled in shocking conditions for ten years in order to collect their "benefits"; prostituted them; chained them to boilers.
FOR 10 YEARS, the group targeted mentally disabled people, luring those who were vulnerable and estranged from their families and locking them inside cabinets, basements and attics, according to prosecutors. (ILLUSTRATION: This 2011 photo shows the sub-basement room in Philadelphia where four malnourished mentally disabled adults, one chained to the boiler, were found locked inside.)
The group's ringleader, Linda Weston, persuaded the victims to allow her to become their representative and began collecting their disability benefits. The victims, prosecutors said, lived in the dark and in isolation, and were fed food laced with drugs to keep them sedated; they were brutally punished if they tried to escape.
On Thursday, a federal judge sentenced Weston, 55, to life in prison — plus 80 years — for her role in the scheme.
"Your acts were unconscionable," U.S. District Judge Cynthia Rufe told Weston, according to NBC News. "You are evil."
Of Weston's sentence, Rufe said: "Ironically, in prison you will get three meals a day and medical and psychological services . . . something you didn't do for your captives."
Weston had pleaded guilty in September to 196 counts, including murder in aid of racketeering, kidnapping and involuntary servitude. Thursday, she apologized in court.
"I am sorry," Weston said, according to the Philadelphia Inquirer. "I believe in God, and God knows what happened."
Rufe responded, "There are a lot of people in this courtroom who know what happened, too."
The case horrified Philadelphia, where in 2011 a landlord discovered four disabled adults locked inside a boiler room, NBC reported. Police rescued them from an apartment building in the Tacony neighborhood. The case was dubbed the "Tacony dungeon" case.
The group ran the operation in three other states, prosecutors said.
Two others — Eddie Wright and Weston's daughter, Jean McIntosh — have also pleaded guilty; two others are awaiting trial.
In all, six disabled adults and four children were victimized by Weston's group. Some of the victims made impact statements in court. Other didn't survive the ordeal.
One female victim died in 2008 of bacterial meningitis and starvation in Virginia after being locked in a kitchen cabinet and attic for months, prosecutors said. Another victim died in 2005 after being kept in a basement with other captives; the victim was fed little food and barred from using the bathroom.
"You are evil and done a bad job on me," one of the victims, Drwin McLemire, said in court, NBC reported. "I'm trying to get over this and get this part behind me."
The plea Weston entered in September spared her from the death penalty.
"Her decision was motivated largely by concern for her children, so there could be some sort of closure for them," Weston attorney Patricia McKinney had said of her client's guilty plea.
McKinney told the Inquirer that Weston suffered abuse as a child, and she pushed back on depictions of her client as a monster.
"Usually people are not born with a '666' on their heads," McKinney said earlier this year. "Nothing that Linda Weston did was not also done to her as a child."
That plea agreement paints a shocking portrait of abuse.
Sometimes, victims were forced to live in attics naked. Mentally disabled adults were fed a diet of Ramen noodles, beans or stew just once a day. Several victims said they were forced to drink their own urine and eat human waste. Some were encouraged to have children in order to collect more benefits.
Some victims were held for years, and the mentally disabled captives were moved around to avoid authorities, prosecutors said.
The group stole more than $200,000 in Social Security benefits from victims, some of whom were forced into prostitution, prosecutors said.
"When the individuals tried to escape, stole food or otherwise protested their treatment, Weston and others punished them by slapping, punching, kicking, stabbing, burning and hitting them with closed hands, belts, sticks, bats and hammers or other objects, including the butt of a pistol," U.S. District Attorney Zane Memeger said in a statement.
In court Thursday, one of the victims, Tamara Breeden, told Weston, "I forgive you."
But, she added: "I don't like what you did to me. I hope you stay in jail for a long time."
* * *
Source: Washington Post
* * *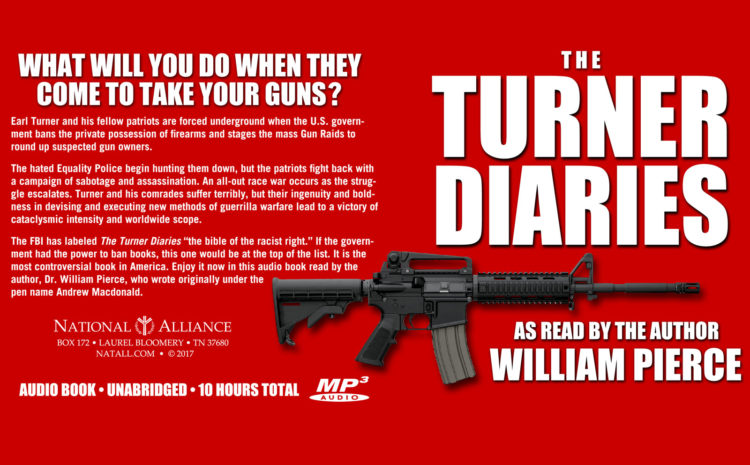 Listen: Turner Diaries commercial
OUR NEW, remastered audio book edition of The Turner Diaries read by the author, Dr. William Pierce, is now available. You can get your copy now — the CDs are are shipping as soon as orders come in.
The original recordings, made by Dr. Pierce and Kevin Strom on reel-to-reel tape in 1995, had been digitized in the early 2000s, but that digitization process was primitive compared to what we are capable of today; we have remastered this important work using the latest software — and we did it the careful, slow, difficult, craftsman-like way — the way Dr. Pierce would have wanted it.
We are proud to offer you the result, which can be ordered online via http://natall.com/td or by postal mail from National Alliance, Box 172, Laurel Bloomery TN 37680 USA. The fidelity of the disc is excellent: On a good speaker system, it sounds as if Dr. Pierce is with you, reading his book to you personally. There is nothing quite like hearing the man who created The Turner Diaries read it to you himself. And, by purchasing this mp3-CD, you will be supporting the important work of the National Alliance.
Listen: Turner Diaries commercial
* * *