Jewish Shock Jock Howard Stern: "Roger Waters Needs to Shut Up About the Jews"
RADIO personality Howard Stern has asked if Pink Floyd star Roger Waters wants Jews to "go back to the concentration camp", after the British musician attacked Jon Bon Jovi for playing in Tel Aviv. (ILLUSTRATION: Ex-Pink Floyd frontman Roger Waters)
New York disc jockey Stern — who is Jewish — launched the blistering criticism of Waters in a seven-minute rant on his popular radio show this Tuesday.
Waters, an outspoken Boycott, Divestment and Sanctions activist, said in an open letter issued in the run-up to Bon Jovi's sell-out show last week that the singer would be standing "shoulder to shoulder… with the settler who burned the baby" — a reference to the Jewish extremists who firebombed a Palestinian home in August — should he go ahead with the concert.
His letter — the latest in a long-line of anti-Israel missives to artists including Robbie Williams, Dionne Warwick and the Rolling Stones — also said Bon Jovi, 53, had forfeited his chance to "stand on the side of justice", despite making no reference to attacks perpetrated by Palestinian terrorists.
Blasting 72-year-old Waters in characteristically fiery fashion, Stern said: "He's gotta shut up, Roger Waters.
"What is with Roger Waters and the Jews? Where do you want the Jews to go Roger?
"Where do you want them to go? You want them to go back to the concentration camp?"
Defending the state of Israel, he added: "There are so many Arab countries and so much land around Israel that if you threw a pin in a pool, that's what Israel is.
"Picture a desert with no natural resources, no water, no oil. It was a shithole that nomads would essentially walk over. So they figured, where's the one place they can stick Jews where no one will be offended."
Stern, who last year said "if you're anti-Israel you're anti-America", also claimed Arab countries "don't want" Palestinians.
The representative body for Palestinians in the US defended Waters — who accused Robbie Williams of "endorsing deadly racism" with a Tel Aviv concert this summer — as a "human rights activist", and accused Stern of making "racist assumptions".
* * *
Source: Read the full article at Jewish News Online
* * *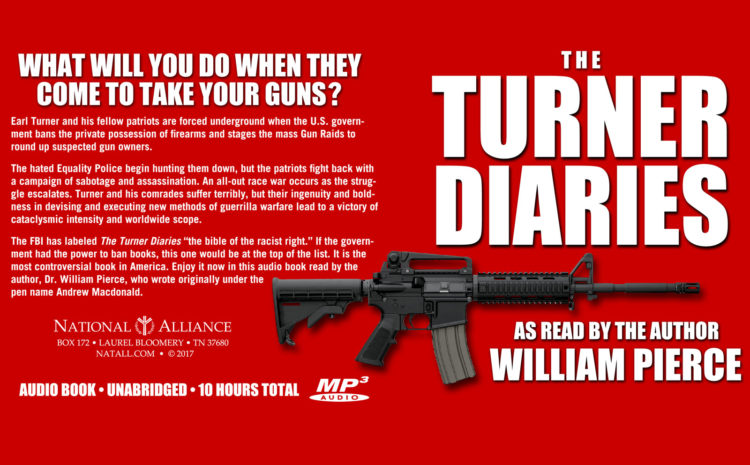 Listen: Turner Diaries commercial
OUR NEW, remastered audio book edition of The Turner Diaries read by the author, Dr. William Pierce, is now available. You can get your copy now — the CDs are are shipping as soon as orders come in.
The original recordings, made by Dr. Pierce and Kevin Strom on reel-to-reel tape in 1995, had been digitized in the early 2000s, but that digitization process was primitive compared to what we are capable of today; we have remastered this important work using the latest software — and we did it the careful, slow, difficult, craftsman-like way — the way Dr. Pierce would have wanted it.
We are proud to offer you the result, which can be ordered online via http://natall.com/td or by postal mail from National Alliance, Box 172, Laurel Bloomery TN 37680 USA. The fidelity of the disc is excellent: On a good speaker system, it sounds as if Dr. Pierce is with you, reading his book to you personally. There is nothing quite like hearing the man who created The Turner Diaries read it to you himself. And, by purchasing this mp3-CD, you will be supporting the important work of the National Alliance.
Listen: Turner Diaries commercial
* * *