Greece: Jewish Groups Demand Controls on Speech
ADL and other Jews dictate that even questioning the motives of Jews is grounds for removal from parliament; member of Independent Greeks Party had said Jews were pushing legislation that would help Israeli businesses at Greek expense
THE ANTI-DEFAMATION LEAGUE (ADL) today condemned remarks made in the Greek Parliament, which accused Greek and American Jews of exacerbating the country's financial crisis.
In remarks made on October 14, Dimitris Giannakopoulos, representing the Greek pharmaceutical industry, and MP Nikos Nikolopoulos of the right-wing Independent Greeks party, accused Sabby Mionis — an ADL board member, activist against anti-Semitism, and prominent Greek-Israeli businessman — of promoting legislation that would lead to layoffs in the Greek pharmaceutical sector and benefit Israeli pharmaceutical companies. The same accusation was leveled against the head of the American Jewish Committee.
"We join the Central Board of Jewish Communities in Greece in condemning these remarks, which allude to anti-Semitic conspiracy theories that Jews benefit at the expense of others," said Jonathan A. Greenblatt, ADL CEO. "We know from our repeated polling in Greece that anti-Semitic conspiracy theories are believed by wide swaths of the Greek public. When asked whether Jews have too much power in the business world, nine out of ten Greeks agreed."
Mr. Greenblatt added, "Anti-Semitic statements in parliament and by Greek members of parliament must always be repudiated by Greek leaders if any progress is to be made against the prevalence of anti-Semitic attitudes in Greek society. Sabby Mionis was similarly targeted two years ago without any official reaction. Last month, we appreciated Prime Minister Alexis Tsipras's prompt removal from his government of a junior minister for anti-Semitic statements, but such acts should be the norm and not the exception."
ADL's recent Global 100 poll on anti-Semitic attitudes in Europe found that 67 percent of those surveyed in Greece harbor anti-Semitic attitudes.
In 2014, a delegation of top ADL leaders attended a series of meetings with senior government, religious and community leaders in Athens, and received strong messages about the Greek government's commitment to combatting anti-Semitism and all forms of extremism.
* * *
Source: Space News
* * *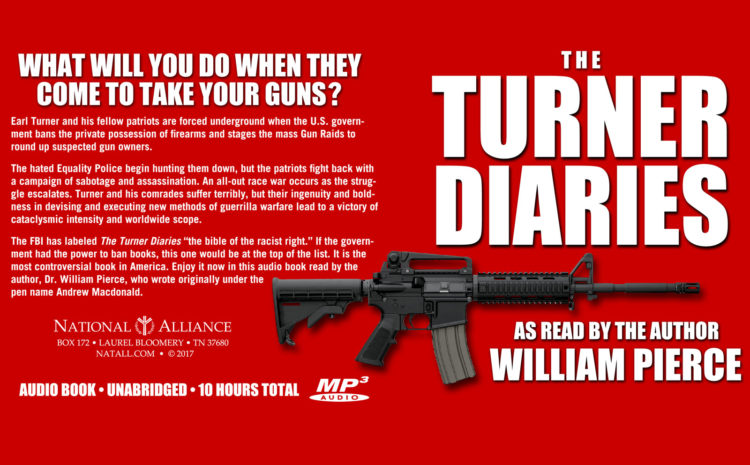 Listen: Turner Diaries commercial
OUR NEW, remastered audio book edition of The Turner Diaries read by the author, Dr. William Pierce, is now available. You can get your copy now — the CDs are are shipping as soon as orders come in.
The original recordings, made by Dr. Pierce and Kevin Strom on reel-to-reel tape in 1995, had been digitized in the early 2000s, but that digitization process was primitive compared to what we are capable of today; we have remastered this important work using the latest software — and we did it the careful, slow, difficult, craftsman-like way — the way Dr. Pierce would have wanted it.
We are proud to offer you the result, which can be ordered online via http://natall.com/td or by postal mail from National Alliance, Box 172, Laurel Bloomery TN 37680 USA. The fidelity of the disc is excellent: On a good speaker system, it sounds as if Dr. Pierce is with you, reading his book to you personally. There is nothing quite like hearing the man who created The Turner Diaries read it to you himself. And, by purchasing this mp3-CD, you will be supporting the important work of the National Alliance.
Listen: Turner Diaries commercial
* * *