Florida: Review Board Considers Special Grand Jury to Indict Leaders of Washington Regime
"Legalism" — that is, showing that the Washington regime is illegal in various ways — is not the full solution. And some of the legalists' theories are lacking. But the rising anger against the tyrannical anti-White System is a healthy sign of a new nation being born out of the ashes of the old.
THE SARASOTA COUNTY charter review board typically proposes minor changes to the county charter when they meet three times a year, but critics say two of its members — Pat Wayman and Steven R. Fields — have been using their positions to usurp authority from other elected officials, reported the Sarasota Herald-Tribune. (ILLUSTRATION: Pat Wayman and Steven R. Fields)
The pair have voted to establish a "people's common law grand jury," which sovereign citizens and other anti-government extremists have proposed to investigate and prosecute government officials for treason — which, as they frequently point out, carries a potential death penalty.
"Take a look at the French Revolution and what took place there," said Mike Bolam, who has attended charter review board meetings to support the common law grand juries.
The board voted 4-4 in May to study a proposal by Rodger Dowdell, a Tea Party activist who denies being a sovereign citizen but, nonetheless, spouts sovereign citizen rhetoric.
"Grand jury powers come from God," Dowdell said, advocating a return to the post-Revolution legal system where there were no police departments and judges rode horseback to hear cases brought by groups of 25 citizens.
Most importantly, he told the Herald-Tribune, those rulings would be kept out of reach of presidential and even U.S. Supreme Court authority.
"A people's common law grand jury can, without any probable cause, go into any nook or cranny of government — local, state or federal — research anything that's going on and root out corruption," Dowdell said. "We want the to government to recognize the contract we call the constitution, and start obeying the law. It's very simple."
His proposal failed due to the tie vote. …
"If someone brings an idea that we can do, that's something we should take a look at," Fields said. "I've seen the federal government grabbing more rights away from people. They bribe states into federal control. The Charter Review Board should not be acting like the County Commission and protecting the status quo. And I don't think (the people's common law grand jury) has anything to do with sovereign citizens."
The other members of the board are also unaware of the links between common law grand juries and the sovereign citizen movement — which federal authorities consider a domestic terrorist threat.
"That's the antithesis of what I'm all about," said Donna Barcomb, the Republican chairwoman of the charter review board, told the Herald-Tribune. "I don't think the board knew anything about that concept. It was a group of individuals who presented a concept to the board. That's what the Charter Review Board does — not leaning one way or another. Frequently, the board will look at something and determine if it's appropriate or in the best interests of the county. For the most part, and I include myself in this, we're completely ignorant about the concepts."
She said the charter board could recommend a ballot initiative that would put Sarasota County in line with all other Florida counties, which appoint charter board members instead of electing them. …
* * *
Source: Read the full article at Raw Story
* * *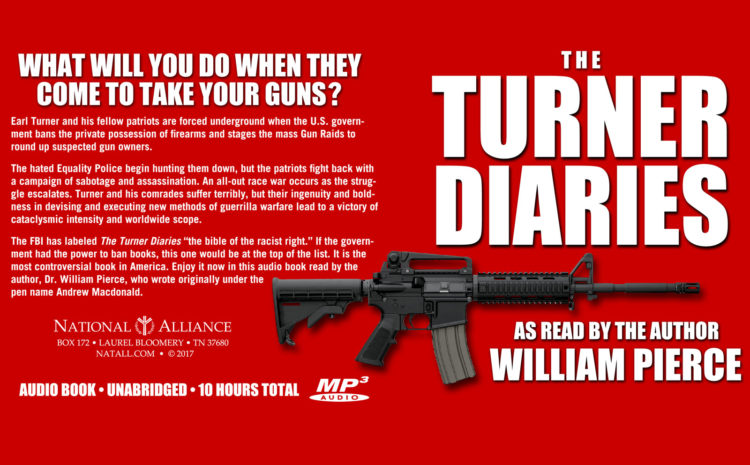 Listen: Turner Diaries commercial
OUR NEW, remastered audio book edition of The Turner Diaries read by the author, Dr. William Pierce, is now available. You can get your copy now — the CDs are are shipping as soon as orders come in.
The original recordings, made by Dr. Pierce and Kevin Strom on reel-to-reel tape in 1995, had been digitized in the early 2000s, but that digitization process was primitive compared to what we are capable of today; we have remastered this important work using the latest software — and we did it the careful, slow, difficult, craftsman-like way — the way Dr. Pierce would have wanted it.
We are proud to offer you the result, which can be ordered online via http://natall.com/td or by postal mail from National Alliance, Box 172, Laurel Bloomery TN 37680 USA. The fidelity of the disc is excellent: On a good speaker system, it sounds as if Dr. Pierce is with you, reading his book to you personally. There is nothing quite like hearing the man who created The Turner Diaries read it to you himself. And, by purchasing this mp3-CD, you will be supporting the important work of the National Alliance.
Listen: Turner Diaries commercial
* * *