Trump: I Don't Want David Duke's Endorsement
DONALD TRUMP says he isn't interested in the endorsement of David Duke, who praised the GOP presidential hopeful earlier this week on his radio show.
"I don't need his endorsement; I certainly wouldn't want his endorsement," Trump said during an interview with Bloomberg's Mark Halperin and John Heilemann. He added: "I don't need anyone's endorsement."
Asked whether he would repudiate the endorsement, Trump said "Sure, I would if that would make you feel better."
Duke sang Trump's praises on his radio show last week — calling him the "best of the lot" of GOP contenders. Duke isn't the only "white supremacist" expressing support for Trump. The New Yorker reported earlier this week that the white-nationalist website VDARE touted Trump as "the first figure with the financial, cultural and economic resources to openly defy elite consensus."
Trump, however, doesn't appear to be concerned that he's attracting these kinds of fans.
"A lot of people like me," he said. "Republicans like me, liberals like me. Everybody likes me."
* * *
Source: Politico
* * *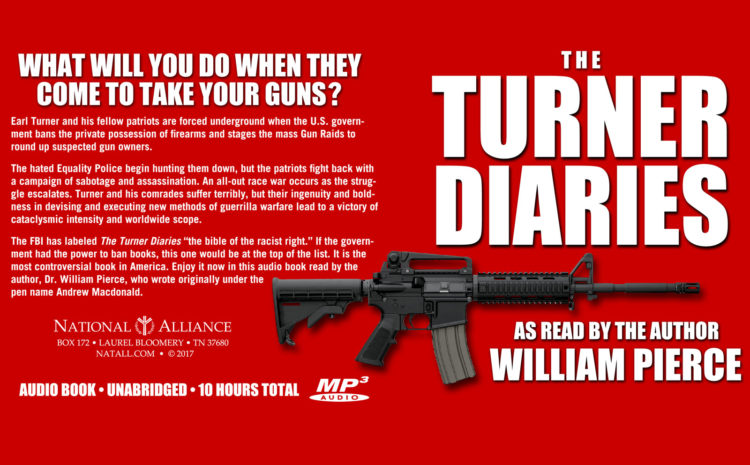 Listen: Turner Diaries commercial
OUR NEW, remastered audio book edition of The Turner Diaries read by the author, Dr. William Pierce, is now available. You can get your copy now — the CDs are are shipping as soon as orders come in.
The original recordings, made by Dr. Pierce and Kevin Strom on reel-to-reel tape in 1995, had been digitized in the early 2000s, but that digitization process was primitive compared to what we are capable of today; we have remastered this important work using the latest software — and we did it the careful, slow, difficult, craftsman-like way — the way Dr. Pierce would have wanted it.
We are proud to offer you the result, which can be ordered online via http://natall.com/td or by postal mail from National Alliance, Box 172, Laurel Bloomery TN 37680 USA. The fidelity of the disc is excellent: On a good speaker system, it sounds as if Dr. Pierce is with you, reading his book to you personally. There is nothing quite like hearing the man who created The Turner Diaries read it to you himself. And, by purchasing this mp3-CD, you will be supporting the important work of the National Alliance.
Listen: Turner Diaries commercial
* * *