Israel: No Refugees Accepted; Building Border Fences
Jews demand open borders for White countries, closed and fortified borders for themselves.
ISRAEL WON'T accept refugees from Syria, Prime Minister Benjamin Netanyahu said Sunday as the government began building a security fence along the Jordanian border. (ILLUSTRATION: Israeli border fence)
"Israel is not indifferent to the human tragedy of the refugees from Syria and Africa," Netanyahu said at the beginning of his Sunday Cabinet meeting, the prime minister's office said.
But "Israel is a small country, a very small country, that lacks demographic and geographic depth," he said. "Therefore, we must control our borders, against both illegal migrants and terrorism."
Accompanied by Defense Minister Moshe Yaalon and other senior military figures, Netanyahu later Sunday toured the section of the eastern border where the is being built.
Israel has already built fences along the Egyptian and Golan Heights borders, and the Jordanian border fence eventually will connect to them, he said.
"Today, we see what is happening to countries that have lost control of their borders," Netanyahu said at the border in an apparent reference to the tens of thousands of migrants and refugees streaming across Europe.
"The combination of very brutal terrorism, labor migrants, smugglers and the loss of control in the face of the human tragedy that is taking place 360 degrees says that we must restore control and ensure Israel's control of its borders," he said.
Netanyahu's comments served as a rejection of a call Saturday by Isaac Herzog, leader of the opposition Zionist Union, for Israel to absorb refugees from Syria's civil war.
"Jews cannot be apathetic when hundreds of thousands of refugees are searching for safe haven," Herzog said, according to the Times of Israel.
* * *
Source: NBC News
* * *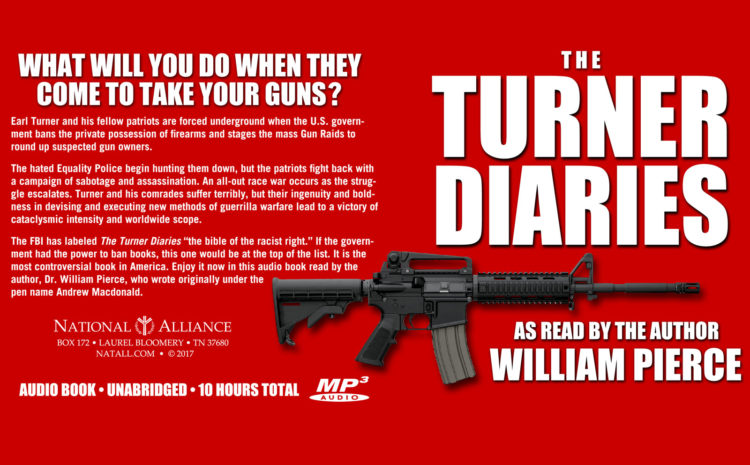 Listen: Turner Diaries commercial
OUR NEW, remastered audio book edition of The Turner Diaries read by the author, Dr. William Pierce, is now available. You can get your copy now — the CDs are are shipping as soon as orders come in.
The original recordings, made by Dr. Pierce and Kevin Strom on reel-to-reel tape in 1995, had been digitized in the early 2000s, but that digitization process was primitive compared to what we are capable of today; we have remastered this important work using the latest software — and we did it the careful, slow, difficult, craftsman-like way — the way Dr. Pierce would have wanted it.
We are proud to offer you the result, which can be ordered online via http://natall.com/td or by postal mail from National Alliance, Box 172, Laurel Bloomery TN 37680 USA. The fidelity of the disc is excellent: On a good speaker system, it sounds as if Dr. Pierce is with you, reading his book to you personally. There is nothing quite like hearing the man who created The Turner Diaries read it to you himself. And, by purchasing this mp3-CD, you will be supporting the important work of the National Alliance.
Listen: Turner Diaries commercial
* * *