Influx of Illegal Alien Minors Energizes Violent U.S. Street Gang MS-13
A GOVERNMENT agency reveals that the nation's most violent street gang has been energized by the barrage of illegal immigrant minors who have entered the U.S. through Mexico, confirming a Judicial Watch report last summer that gangs were actively recruiting members at shelters housing the new arrivals. (ILLUSTRATION: Members of the street gang 'MS13' serve jail sentences at the National Penitentiary in Tamarac, Honduras.)
The tens of thousands of illegal immigrants, coined Unaccompanied Alien Children (UAC) by the government, came mostly from Honduras, El Salvador and Guatemala. The Obama administration rolled out the welcome mat, quickly offering housing, food, medical treatment and a free education. The UACs have brought in dangerous diseases—including swine flu, dengue fever, Ebola virus and tuberculosis— and have occupied our military bases as shelters. Many have been disbursed throughout the U.S., igniting a crisis for overwhelmed public school districts nationwide.
As soon as the UACs started arriving, Homeland Security sources told Judicial Watch that many had ties to gang members in the U.S. In fact, JW reported last July that street gangs—including Mara Salvatrucha or MS-13—went on a recruiting frenzy at U.S. shelters housing the illegal immigrant minors and they were using Red Cross phones to communicate. The MS-13 is a feared street gang of mostly Central American illegal immigrants that's spread throughout the U.S. and is renowned for drug distribution, murder, rape, robbery, home invasions, kidnappings, vandalism and other violent crimes. The Justice Department's National Gang Intelligence Center (NGIC) says criminal street gangs like the MS-13 are responsible for the majority of violent crimes in the U.S. and are the primary distributors of most illicit drugs.
Now the Texas Department of Public Safety confirms that the MS-13 has emerged as a top tier gang in Texas this year thanks to the influx of illegal alien gang members that crossed into the state last year. In a 19-page report, the agency writes that the number of MS-13 members encountered by U.S. Border Patrol in the Rio Grande Valley sector has increased each year, accelerating in 2014 and coinciding with increased illegal immigration from Central America during the same period. This clearly refers to the UAC crisis that saw over 60,000 illegal immigrants—many with criminal histories—storm into the U.S. in a matter of months.
Authorities in Texas expect the problem will only get worse. "Gang members from Guatemala, Honduras, and El Salvador could be destined for locations in Texas with large Central American communities, including the Houston and Dallas areas," the Texas Department of Safety writes in its report. Even if that doesn't materialize, the state already has a serious gang crisis. "Reports of increased MS-13 gang activity have already surfaced in the Houston area," the Department of Safety confirms. "MS-13 gang members are known for highly violent crimes, including brutal murders and dismemberments. Several recent crimes in Texas illustrate the criminal threat associated with MS-13."
Here are some gruesome examples included in the agency's report: "On September 15, 2014, the mutilated body of a 14-year-old middle school student was discovered in the woods near Houston after he was murdered with a machete.  Initial information from the investigation indicates the victim was a U.S. citizen and an MS-13 member who was murdered after trying to leave the gang. In October 2014, a 14-year-old and three adult males were arrested and charged with murder in this case. The adult males are from El Salvador, and at least two are documented MS-13 gang members.  In mid-August 2014, a 29-year-old 18th Street gang member was stabbed to death in Houston by a 16-year-old El Salvadoran member of MS-13. The victim suffered multiple stab wounds outside of a bar and was discovered a few days later in a bayou. According to investigators, the juvenile suspect revealed he illegally crossed into the U.S. in March 2014."
Another huge concern is the relationship between street gangs and Mexican drug cartels, the report says, because it's a very profitable partnership. "These groups pose the greatest gang threat to Texas due to their relationships with Mexican cartels, high levels of transnational criminal activity, level of violence, and overall statewide presence." The lucrative gang/cartel business endeavors are also expanding into human smuggling and gambling, the Texas Department of Safety reveals in its report.
* * *
Source: Judicial Watch
* * *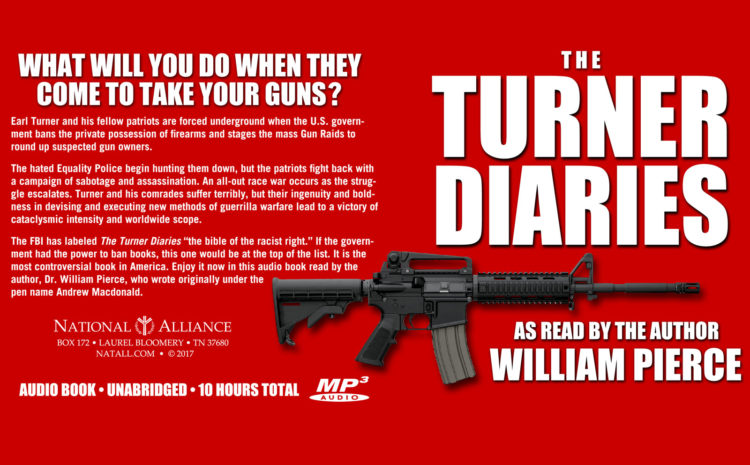 Listen: Turner Diaries commercial
OUR NEW, remastered audio book edition of The Turner Diaries read by the author, Dr. William Pierce, is now available. You can get your copy now — the CDs are are shipping as soon as orders come in.
The original recordings, made by Dr. Pierce and Kevin Strom on reel-to-reel tape in 1995, had been digitized in the early 2000s, but that digitization process was primitive compared to what we are capable of today; we have remastered this important work using the latest software — and we did it the careful, slow, difficult, craftsman-like way — the way Dr. Pierce would have wanted it.
We are proud to offer you the result, which can be ordered online via http://natall.com/td or by postal mail from National Alliance, Box 172, Laurel Bloomery TN 37680 USA. The fidelity of the disc is excellent: On a good speaker system, it sounds as if Dr. Pierce is with you, reading his book to you personally. There is nothing quite like hearing the man who created The Turner Diaries read it to you himself. And, by purchasing this mp3-CD, you will be supporting the important work of the National Alliance.
Listen: Turner Diaries commercial
* * *