A Short Note on Christianity
by Revilo P. Oliver
introduced by Kevin Alfred Strom
IN APRIL 1977 Revilo P. Oliver (pictured) was working on the second edition of his book, Christianity and the Survival of the West. This second edition would be different in a crucial way from the first: Oliver had decided in the intervening five years that a solution to our racial dilemma could no longer be found in an alliance with Christian conservatives and traditionalists, and his introduction to the second edition reflected that new resolve.
The first edition of Christianity and the Survival of the West — published by Richard Cotten's Sterling Publishers — had been a last-ditch effort to awaken the racial consciousness of American Christians.
Richard Cotten, interestingly, had begun his political efforts by leading a group that broke away from the John Birch Society and called itself "Concerned Christian Citizens of Kern County, California." (Oliver was a founder of the Society, but resigned from it in 1966, citing Jewish control of its leadership.)
Cotten told me in the 1990s that Oliver had weaned him away from his belief in Jesus over a three-decade friendship:
"I started out saying 'Christ, Liberty, and the Constitution.' But Dr. Oliver said: 'Race.' I said 'Race, Liberty, and the Constitution.' And Oliver said 'Race!' He showed me that nine tenths of the beliefs of 'Christian conservatives' are utter nonsense and delusion, and that there could never have been a Constitution — and never will be liberty — without our race and its inherent qualities. Now I too say 'Race' — without equivocation."
In the unsigned — in accordance with the magazine's policies at the time — note below, indubitably from Oliver, published in Wilmot Robertson's Instauration magazine's "Safety Valve" column for April, 1977, Oliver says:
"A recent Safety Valvist wrote: 'More and more I'm coming to feel that only an all-out assault on Christianity can destroy what has become, unfortunately, an emotional and intellectual pillar of Jewish power.'

"That is a conclusion to which I have been forced over the years — a grim conclusion, since it makes the task of recovering our country vastly more difficult, but one that, on the basis of many years of observation and experience, I now regard as inescapable."
In 1977, Oliver had just retired from his professorship at the University of Illinois in Urbana, which may also have been a catalyst for a new way of looking at his life's tasks.
He was soon to write his book The Jewish Strategy, which was slated for publication in 1980 by the South African Observer, who reneged on their agreement. The book did not see the light of day until I published it in 2002, eight years after Dr. Oliver's death.
Shortly thereafter, around 1981, Revilo P. Oliver — at an age when most men are retired or retiring — began the most prolific phase of his writing career, authoring hundreds of essays, books, and booklets, including his classic America's Decline. Most of these were published by Liberty Bell magazine, but some of his work also appeared in Instauration and National Vanguard magazines. America's Decline was published by Londinium Press. (By the way, I am looking for a copy of the 1981 edition of America's Decline. Write to me via the National Vanguard contact form if you have a copy you'd be willing to let me borrow.)
This was the beginning of a new era for Oliver, in which he could finally state, as he did in his introduction to The Jewish Strategy, "I have chosen to write with utter frankness on the dire plight of our race and the civilization we created. The reader has been warned."
* * *
Source: Instauration magazine, April 1977
* * *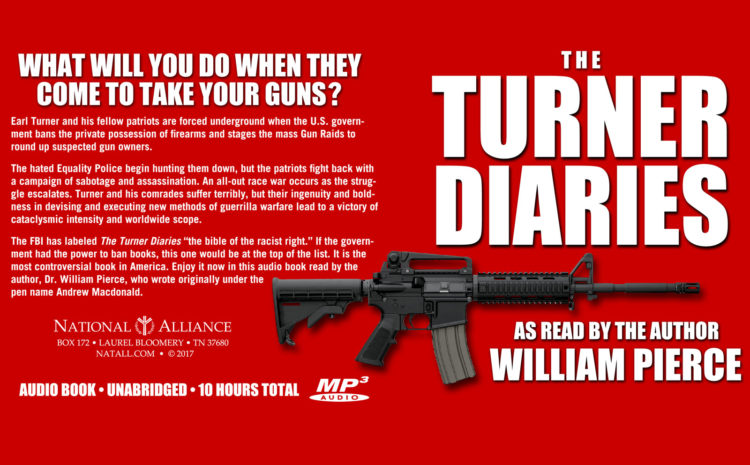 Listen: Turner Diaries commercial
OUR NEW, remastered audio book edition of The Turner Diaries read by the author, Dr. William Pierce, is now available. You can get your copy now — the CDs are are shipping as soon as orders come in.
The original recordings, made by Dr. Pierce and Kevin Strom on reel-to-reel tape in 1995, had been digitized in the early 2000s, but that digitization process was primitive compared to what we are capable of today; we have remastered this important work using the latest software — and we did it the careful, slow, difficult, craftsman-like way — the way Dr. Pierce would have wanted it.
We are proud to offer you the result, which can be ordered online via http://natall.com/td or by postal mail from National Alliance, Box 172, Laurel Bloomery TN 37680 USA. The fidelity of the disc is excellent: On a good speaker system, it sounds as if Dr. Pierce is with you, reading his book to you personally. There is nothing quite like hearing the man who created The Turner Diaries read it to you himself. And, by purchasing this mp3-CD, you will be supporting the important work of the National Alliance.
Listen: Turner Diaries commercial
* * *