University Teaches Students that White People Can't be Oppressed
AN instructional guide apparently in use at Northeastern University in Boston is teaching the school's residential assistants that it is impossible for white people or men to be oppressed.
"In order to have the experience of being oppressed one must belong to an oppressed category," the guide, titled "The Umbrella of Oppression," says. "Men cannot be oppressed as men, just as whites cannot be oppressed as whites."
The guide was posted to the university's Resident Assistant Resource Link portal, and was revealed to the wider public when a screenshot of it was posted to the popular news aggregator Reddit on its TumblrInAction page.
After its blunt declaration that whites and men can't be oppressed, the guide then reiterates itself to ram the point home.
"For a male to experience oppression, they would also need to be a person of color, gay, disabled, or in a lower social class. They cannot be simply because they are male."
The guide then concludes with a handy image of the "umbrella of oppression," visually showcasing the many types of pernicious oppression that can be seen in the dangerous world of the American university system:
The notion that racism and other discriminatory views are a one-way street is a common one in academia and certain other circles. Numerous articles have been written to promote the notion, for instance, that black people cannot be racist.
As noted by the website Campus Reform, Northeastern's use of the guide isn't exactly surprising. The school also has an LGBTQA resource center that warns about the "heterosexism" inherent in having M/F checkboxes on forms, and the school also has a lengthy response protocol for handling so-called "bias incidents."
* * *
Source: Daily Caller
* * *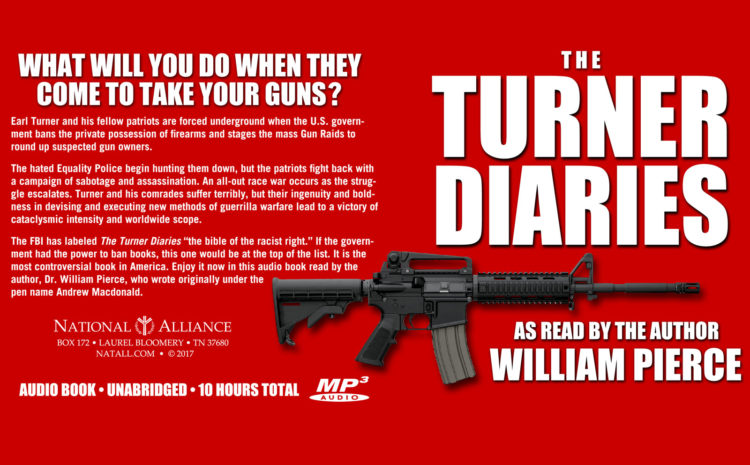 Listen: Turner Diaries commercial
OUR NEW, remastered audio book edition of The Turner Diaries read by the author, Dr. William Pierce, is now available. You can get your copy now — the CDs are are shipping as soon as orders come in.
The original recordings, made by Dr. Pierce and Kevin Strom on reel-to-reel tape in 1995, had been digitized in the early 2000s, but that digitization process was primitive compared to what we are capable of today; we have remastered this important work using the latest software — and we did it the careful, slow, difficult, craftsman-like way — the way Dr. Pierce would have wanted it.
We are proud to offer you the result, which can be ordered online via http://natall.com/td or by postal mail from National Alliance, Box 172, Laurel Bloomery TN 37680 USA. The fidelity of the disc is excellent: On a good speaker system, it sounds as if Dr. Pierce is with you, reading his book to you personally. There is nothing quite like hearing the man who created The Turner Diaries read it to you himself. And, by purchasing this mp3-CD, you will be supporting the important work of the National Alliance.
Listen: Turner Diaries commercial
* * *