Great Infographic: Russia's National Debt Is Tiny
An island of prudence in a sea of profligacy. Russia's debt is so small you'll probably have to click for higher resolution to even see it.
TWO WEEKS AGO, we published a post showing the world economy in one visualization. In the corresponding comments section, a user asked us if we could put together a similar visualization but instead honing in on world debt.
Today's visualization breaks down $59.7 trillion of world debt by country, as well as highlighting each country's debt-to-GDP ratio using colour. The data comes from the IMF and only covers public government debt. It excludes the debt of country's citizens and businesses, as well as unfunded liabilities which are not yet technically incurred yet. All figures are based on USD.
The numbers that stand out the most, especially when comparing to the previous world economy graphic:
The United States constitutes 23.3% of the world economy but 29.1% of world debt. It's debt-to-GDP ratio is 103.4% using IMF figures.
Japan makes up only 6.18% of total economic production, but has amounted 19.99% of global debt.
China, the world's second largest economy (and largest by other measures), accounts for 13.9% of production. They only have 6.25% of world debt and a debt-to-GDP ratio of 39.4%.
7 of the 15 countries with the most total debt are European. Together, excluding Russia, the European continent holds over 26% of total world debt.
Combining the debt of the United States, Japan, and Europe together accounts for 75% of total global debt.
* * *
Source: Russia Insider
* * *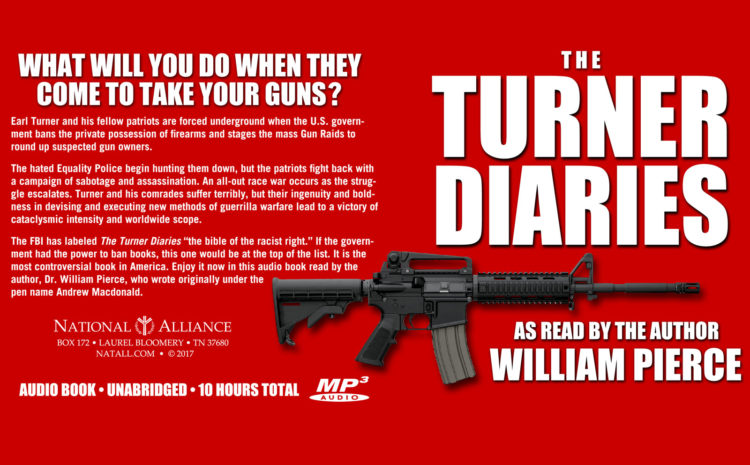 Listen: Turner Diaries commercial
OUR NEW, remastered audio book edition of The Turner Diaries read by the author, Dr. William Pierce, is now available. You can get your copy now — the CDs are are shipping as soon as orders come in.
The original recordings, made by Dr. Pierce and Kevin Strom on reel-to-reel tape in 1995, had been digitized in the early 2000s, but that digitization process was primitive compared to what we are capable of today; we have remastered this important work using the latest software — and we did it the careful, slow, difficult, craftsman-like way — the way Dr. Pierce would have wanted it.
We are proud to offer you the result, which can be ordered online via http://natall.com/td or by postal mail from National Alliance, Box 172, Laurel Bloomery TN 37680 USA. The fidelity of the disc is excellent: On a good speaker system, it sounds as if Dr. Pierce is with you, reading his book to you personally. There is nothing quite like hearing the man who created The Turner Diaries read it to you himself. And, by purchasing this mp3-CD, you will be supporting the important work of the National Alliance.
Listen: Turner Diaries commercial
* * *