Wesley Clark Comes From 'a Long Line of Rabbis'
Clark looks White and leader-like, despite his Jewish ancestry, and bridges the totalitarian "liberal" and worship-the-military "conservative" pathologies that now infect America.
RAISED a Southern Baptist who later converted to Roman Catholicism, Gen. Wesley Clark knew just what to say when he strode into a Brooklyn yeshiva in 1999, ostensibly to discuss his leadership of NATO's victory in Yugoslavia.
"I feel a tremendous amount in common with you," the uniformed four-star general told the stunned roomful of students.
"I am the oldest son, of the oldest son, of the oldest son — at least five generations, and they were all rabbis." …
Apparently Clark, 58, revels in his Jewish roots.
He told The Jewish Week in New York, which first reported the yeshiva comment in 1999, that his ancestors were not just Jews, but members of the priestly caste of Kohens.
Clark's Jewish father, Benjamin Kanne, died when he was 4, but he has kept in touch with his father's family since his 20s, when he rediscovered his Jewish roots. He is close to a first cousin, Barry Kanne, who heads a pager company in Georgia.
Clark shares more than sentimental memories with Jews.
He couples liberal domestic views that appeal to much of the Jewish electorate with a soldier's sympathy for Israel's struggle against terror. …
Two of Clark's top advisers are Jews who had prominent roles in the Clinton and Gore campaigns. Eli Segal was a top adviser to President Clinton in his first term; Ron Klain helped run Vice President Al Gore's 2000 campaign.
* * *
Source: Read the full article at the J. Weekly (2003)
* * *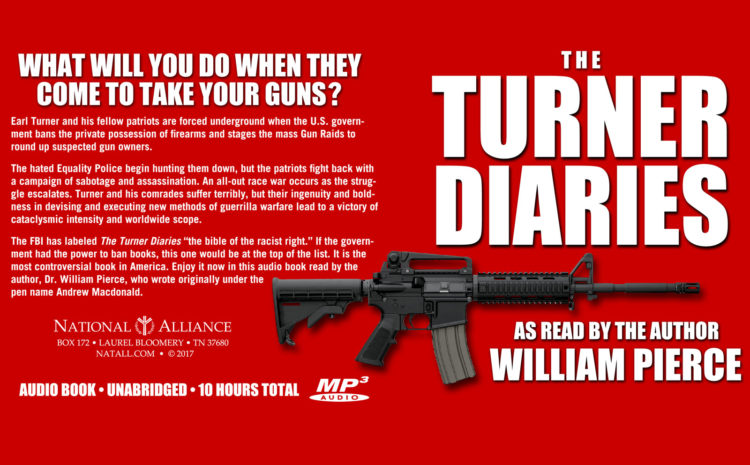 Listen: Turner Diaries commercial
OUR NEW, remastered audio book edition of The Turner Diaries read by the author, Dr. William Pierce, is now available. You can get your copy now — the CDs are are shipping as soon as orders come in.
The original recordings, made by Dr. Pierce and Kevin Strom on reel-to-reel tape in 1995, had been digitized in the early 2000s, but that digitization process was primitive compared to what we are capable of today; we have remastered this important work using the latest software — and we did it the careful, slow, difficult, craftsman-like way — the way Dr. Pierce would have wanted it.
We are proud to offer you the result, which can be ordered online via http://natall.com/td or by postal mail from National Alliance, Box 172, Laurel Bloomery TN 37680 USA. The fidelity of the disc is excellent: On a good speaker system, it sounds as if Dr. Pierce is with you, reading his book to you personally. There is nothing quite like hearing the man who created The Turner Diaries read it to you himself. And, by purchasing this mp3-CD, you will be supporting the important work of the National Alliance.
Listen: Turner Diaries commercial
* * *