Santa Cruz County Decides To Do Away With Big Banks
Actually, this doesn't go nearly far enough: We need a completely new, non-usurious, non-fraudulent banking system. But small rebellions can encourage larger ones.
THE BOARD OF Supervisors in Santa Cruz County, California, have taken a bold step. The County has decided that they will not do business, including investment services or bond issuances, with five major banks that the Justice Department found to be associated with felonious acts in May of this year.
Ryan Coonerty (pictured), Supervisor of the Third District of the County, proposed to Mary Jo Walker, (Auditor-Controller-Treasurer) and the rest of the Board of Supervisors that they immediately, and for the term of at least 5 years, cease relations in business with Citigroup, J.P. Morgan & Chase, Barclays, The Royal Bank of Scotland, and U.B.S.
Coonerty wrote:
"[These banks] have agreed to plead guilty to felony charges of conspiring to manipulate the price of U.S. dollars and euros exchanged in the foreign currency exchange spot market… The behavior of these banks is offensive and signals a Wall Street culture in which several big banks broke the law even after years of strong criticism and increased regulation following the economic crisis."
The probe of the five banks mentioned above also included Bank Of America. The banks agreed to pay a total amount of $5.8 Billion earlier this year in settlement of the LIBOR scandal.  Citigroup was fined the largest amount of $925 million by the DOJ, and $325 million by the Fed. JP Morgan & Chase was fined a total of $892 million.  The DOJ cites these banks for their employee's having violated the Sherman Antitrust Act, which expressly forbids coercive monopolizing any part of trade or commerce within several states or foreign nations.
Coonerty's letter rounded off:
"There seems to be no limit to the greed in some our nation's largest banks. I believe it is critical that the County only work with the most trustworthy institutions as we invest and protect the public's tax dollars. Santa Cruz County should not be involved with those who rigged the world's biggest financial markets.

It is important that we send a message that if you want to do business with the County, you need to play by the rules. Therefore I recommend that the Board direct that the County's investment policy be modified to reflect that the County of Santa Cruz will not do new business with these felonious financial institutions for a period of five years and further that the County unwind existing relationships with these five banks to the greatest extent feasible."
The words are sharp, and the idea behind it is razor edged. If every county in just CA followed suit with Coonerty's idea, that could mean significant losses in revenue for these corporations. The $650 million municipal portfolio reported to be in these banks for Santa Cruz County is just chump change for banks like JP Morgan & Chase.
I for one will be contacting the Board and Treasurer in my own County to recommend that this action be taken local to me, and hope you will as well.
* * *
Source: The Fifth Column
* * *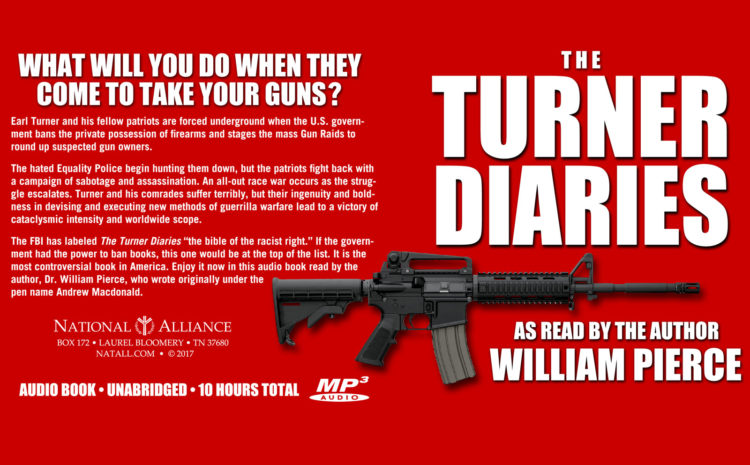 Listen: Turner Diaries commercial
OUR NEW, remastered audio book edition of The Turner Diaries read by the author, Dr. William Pierce, is now available. You can get your copy now — the CDs are are shipping as soon as orders come in.
The original recordings, made by Dr. Pierce and Kevin Strom on reel-to-reel tape in 1995, had been digitized in the early 2000s, but that digitization process was primitive compared to what we are capable of today; we have remastered this important work using the latest software — and we did it the careful, slow, difficult, craftsman-like way — the way Dr. Pierce would have wanted it.
We are proud to offer you the result, which can be ordered online via http://natall.com/td or by postal mail from National Alliance, Box 172, Laurel Bloomery TN 37680 USA. The fidelity of the disc is excellent: On a good speaker system, it sounds as if Dr. Pierce is with you, reading his book to you personally. There is nothing quite like hearing the man who created The Turner Diaries read it to you himself. And, by purchasing this mp3-CD, you will be supporting the important work of the National Alliance.
Listen: Turner Diaries commercial
* * *