Montgomery, Alabama Named Most Sexually Diseased City in the United States
Montgomery — like all of the top ten cites for STDs — is heavily Black; and Blacks are infected at rates higher than any other group — and far, far higher than Whites.
MONTGOMERY, Ala., has more cases of syphilis, gonorrhea and chlamydia than large U.S. cities like Baltimore, Philadelphia and New Orleans, according to a report released today from a renter's website.
RentApplication.com compiled statistics on sexually transmitted diseases (STDs) using 2013 data from the Centers for Disease Control and Prevention (CDC) and ranked the Southern city as the most sexually diseased city in the country.
According to the Montgomery Advertiser, the website calculated rates per 100,000 people to normalize the data. It also excluded rural parts of the country, evaluating only cities with substantial populations.
The 2013 CDC data revealed that Montgomery had 4,371 reported cases of STDs and a total 1,899.20 diseases per 100,000 people. The city has a population of 201,332, according to the U.S. Census Bureau.
"It's pretty sobering to look at those three as a total," Tom Miller, chief medical officer for the Alabama Department of Public Health, told the Montgomery Advertiser. "When we check numbers and try to get to the same point as was reported in this (ranking), we think the numbers are in the ballpark in terms of the numbers cited for Montgomery."
In the report, St. Louis had the second highest number of reported STDs in the nation with 1,867.54 reported cases per 100,000, and West Memphis, Arkansas, had the third highest number of reported cases with 1,717.20 per 100,000. West Memphis has a population of 25,545, the Montgomery Advertiser reported.
Southern cities such as New Orleans; Killeen, Texas; and Fayetteville, North Carolina also made the top 10 portion of the list. Two of those cities—Killeen  and Fayetteville—have large military populations, with Fort Hood and Fort Bragg, respectively. Also in the top 10 is the Norfolk, Virginia, which is home to the Norfolk Naval Base.
Miller told the Montgomery Advertiser that he wasn't aware of another time Montgomery received a No. 1 ranking for most STDs in the U.S., but that he thought the higher rates were due to visitors as well as residents in the city.
"It's difficult to quantify how much is contributed by specific groups," he told the newspaper.
Here are the top 10 most sexually diseased U.S. cities, according to RentApplication.com:
(City, total STDs per 100,000)
1. Montgomery: 1,899.20
2. St. Louis, Missouri: 1,867.54
3. West Memphis, Arkansas: 1,717.29
4. Philadelphia, Pennsylvania: 1,689.77
5. Norfolk, Virginia (Norfolk Naval Base): 1,632.74
6. Baltimore, Maryland: 1,630.98
7. Richmond, Virginia: 1,544.39
8. New Orleans, Louisiana: 1,520.37
9. Killeen, Texas (Fort Hood): 1,512.83
10. Fayetteville, North Carolina (Fort Bragg): 1,489.20
* * *
Source: Fox News
* * *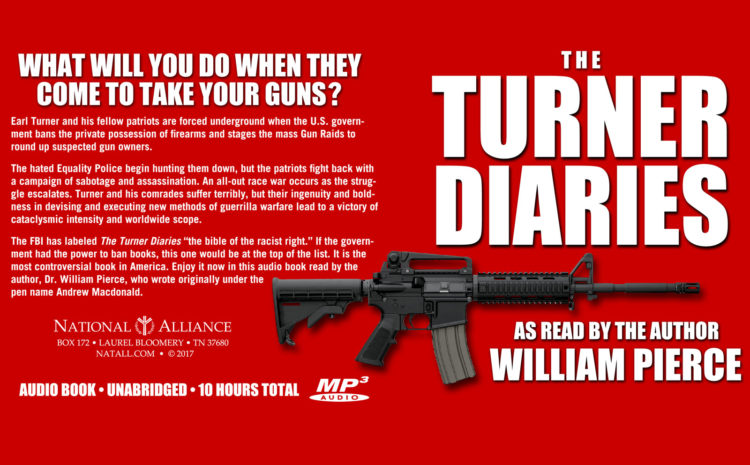 Listen: Turner Diaries commercial
OUR NEW, remastered audio book edition of The Turner Diaries read by the author, Dr. William Pierce, is now available. You can get your copy now — the CDs are are shipping as soon as orders come in.
The original recordings, made by Dr. Pierce and Kevin Strom on reel-to-reel tape in 1995, had been digitized in the early 2000s, but that digitization process was primitive compared to what we are capable of today; we have remastered this important work using the latest software — and we did it the careful, slow, difficult, craftsman-like way — the way Dr. Pierce would have wanted it.
We are proud to offer you the result, which can be ordered online via http://natall.com/td or by postal mail from National Alliance, Box 172, Laurel Bloomery TN 37680 USA. The fidelity of the disc is excellent: On a good speaker system, it sounds as if Dr. Pierce is with you, reading his book to you personally. There is nothing quite like hearing the man who created The Turner Diaries read it to you himself. And, by purchasing this mp3-CD, you will be supporting the important work of the National Alliance.
Listen: Turner Diaries commercial
* * *