As Jews Flee Eastern Ukraine, Rabbis Open Office to "Prove Jewish Ancestry"
Proving, among other things, that Jewish identity is primarily racial, not religious — even to rabbis.
RABBIS from Israel and Ukraine opened an office in eastern Ukraine that will help prospective immigrants to Israel prove they are Jewish. (ILLUSTRATION: Jewish immigrants from Ukraine arrive at Ben Gurion International Airport, December 22, 2014)
The office, which opened last week in Dnepropetrovsk, aims to facilitate the process for those seeking to immigrate to Israel under its Law of Return for Jews and their kin. It is a joint initiative of the Jewish Community of Dnepropetrovsk, the Israeli organizations Tzohar and Shorashim, and the Triguboff Institute of Australia.
"It will prevent situations in which there is no ability to prove a Jewish origin once aliyah to Israel was made and the documents were left behind," representatives of the groups involved in the office wrote in a joint statement published Tuesday. Aliyah is the Hebrew word for Jewish immigration to Israel.
The process of proving a Jewish ancestry has become especially difficult for thousands of Jews from eastern Ukraine, where a stagnant civil war has resulted in loss of access to documents that may help to establish such a family connection.
At the office's opening, the delegation of rabbis from Israel included David Stav, chief rabbi of the city of Shoham and chairman of Tzohar, a rabbinical organization that helps to involve non-religious couples and their families in religious wedding ceremonies and other life-cycle events.
"There is no bigger aid for a Jew than helping him to prove his Jewish status and consequently his identity as a Jew," Stav said at a meeting with Rabbi Shmuel Kaminezki, the chief rabbi of Dnepropetrovsk and one of Ukraine's most influential rabbis.
Kaminezki said the new office will be "saving lives," adding that he will refer many applicants to the office and "supply an abundance of work" to its staff.
Aliyah from Ukraine totaled 5,840 individuals in 2014, a 190 percent increase over 2013, when the unrest that led to the fighting began. More than 6,000 people from Ukraine have come in 2015.
* * *
Source: Haaretz
* * *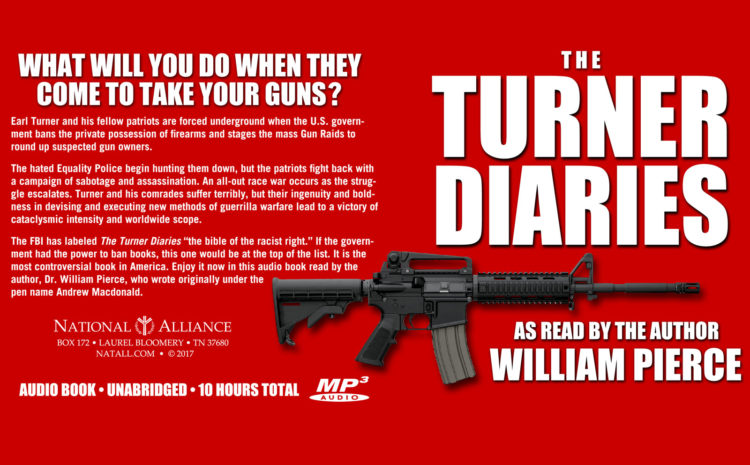 Listen: Turner Diaries commercial
OUR NEW, remastered audio book edition of The Turner Diaries read by the author, Dr. William Pierce, is now available. You can get your copy now — the CDs are are shipping as soon as orders come in.
The original recordings, made by Dr. Pierce and Kevin Strom on reel-to-reel tape in 1995, had been digitized in the early 2000s, but that digitization process was primitive compared to what we are capable of today; we have remastered this important work using the latest software — and we did it the careful, slow, difficult, craftsman-like way — the way Dr. Pierce would have wanted it.
We are proud to offer you the result, which can be ordered online via http://natall.com/td or by postal mail from National Alliance, Box 172, Laurel Bloomery TN 37680 USA. The fidelity of the disc is excellent: On a good speaker system, it sounds as if Dr. Pierce is with you, reading his book to you personally. There is nothing quite like hearing the man who created The Turner Diaries read it to you himself. And, by purchasing this mp3-CD, you will be supporting the important work of the National Alliance.
Listen: Turner Diaries commercial
* * *