Mark Zuckerberg Announces He'll Pay For Hundreds of Illegal Invaders to Attend College
FACEBOOK FOUNDER and CEO Mark Zuckerberg (pictured) and his wife Priscilla Chan said Wednesday they would donate $5 million to give scholarships to 400 undocumented Bay Area students.
The money is being donated to TheDream.US, a group founded by former Washington Post publisher Donald Graham in 2013. Their mission is to help students born outside the U.S. pay for their education; as non-citizens they cannot access student loan programs.
"Hundreds of thousands of young immigrants are part of our communities and attend school legally in the United States," Zuckerberg wrote in a post on his site. "Many of them moved to America early in their lives and can't remember living anywhere else. They want to remain in the country they love and be a part of America's future. But without documentation, it's often a struggle to get a college education, and they don't have access to any kind of federal aid."
According to the University of Texas, there were over 2.2 million undocumented students in the U.S. in 2010; of those, no more than 10 percent went on to college. Until a recent program enacted by President Obama, many were at risk of deportation.
Zuckerberg has shown a keen interest in immigration reform, having launched a hackathon for undocumented young adults in 2013, and spent millions on lobbying in favor of more liberal immigration policies. Zuckerberg and Chan also recently announced a $120 million commitment to Bay Area public schools last year.
"Over the coming years, our hope is to prepare hundreds of students to graduate with associate or bachelor's degrees so they can build meaningful new careers," Zuckerberg said.
His announcement is part of TheDream.US "I"m In" campaign, which is asking America's wealthiest philanthropists to boost funding for the program. Graham and billionaire hedge funder Bill Ackman have already pledged $15 million to fund education for 1,200 undocumented students.
Earlier this week, members of the Young American Dreamers organization were escorted out of Jeb Bush's announcement that he would be running for president. Bush was forced to go off script to address their presence, saying he would "pass meaningful immigration reform so that that will be solved," but didn't elaborate.
* * *
Source: Fusion
* * *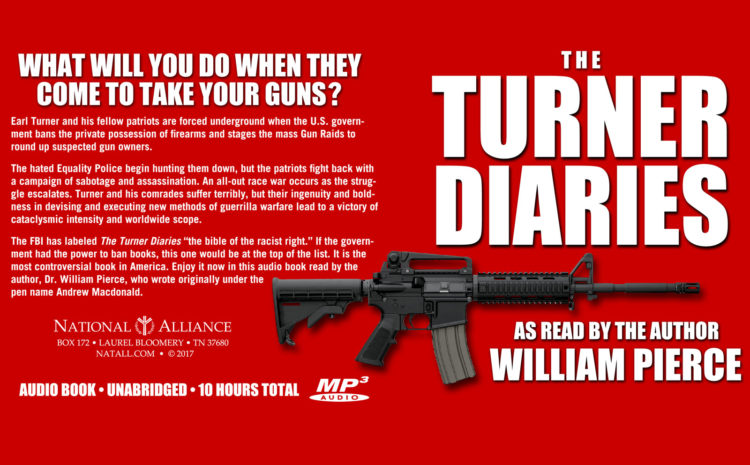 Listen: Turner Diaries commercial
OUR NEW, remastered audio book edition of The Turner Diaries read by the author, Dr. William Pierce, is now available. You can get your copy now — the CDs are are shipping as soon as orders come in.
The original recordings, made by Dr. Pierce and Kevin Strom on reel-to-reel tape in 1995, had been digitized in the early 2000s, but that digitization process was primitive compared to what we are capable of today; we have remastered this important work using the latest software — and we did it the careful, slow, difficult, craftsman-like way — the way Dr. Pierce would have wanted it.
We are proud to offer you the result, which can be ordered online via http://natall.com/td or by postal mail from National Alliance, Box 172, Laurel Bloomery TN 37680 USA. The fidelity of the disc is excellent: On a good speaker system, it sounds as if Dr. Pierce is with you, reading his book to you personally. There is nothing quite like hearing the man who created The Turner Diaries read it to you himself. And, by purchasing this mp3-CD, you will be supporting the important work of the National Alliance.
Listen: Turner Diaries commercial
* * *