Alyaksandr Lukashenko Wants 'All Jews in Belarus Under Control'
Lukashenko evidently believes he can "work with" the Jewish power structure without being dominated by it.
FOLLOWING HIS annual state-of-the-union address yesterday, Belarusian President Alyaksandr Lukashenko said to Semyon Shapiro, the governor of Minsk: "I asked you a year ago to take all Jews in Belarus under control."
(ILLUSTRATION: Belarus' President Alexander Lukashenko in Minsk on August 26, 2014.)
But the Belarusian "Jews" Lukashenko spoke of, reported Radio Free Europe/Radio Liberty, is actually a reference to only one man—Yury Ziser, the Jewish owner of the largest Internet service provider in Belarus, including the website, tut.by.
Lukashenko's remarks were reportedly part of a larger verbal attack on Ziser, in which he also told Shapiro, "We have not been able to normalize that man."
The president also said that Ziser was not behaving correctly.
Ziser said he did not understand how it was possible to "normalize" Jews.
Lukashenko then poked fun at Shapiro by saying that his Jewish faith had brought rain to Minsk.
"Shapiro prayed in the synagogue," he said. "There was rain only in Minsk region."
In his address, Lukashenko, the President of Belarus since 1994, said his country "remains an island of stability and order" even though the tension between countries in Europe is the "same as during the Cold War."
But Lukashenko also praised Jews for resisting Nazi occupation during World War II, Reuters reported, describing them as "white boned." He also said, "Semyon Borisovich (Shapiro) is a good guy."
Then he added: "[Jews] don't like to get their hands dirty or fight, but they did get their hands dirty with us!"
In 2007, Lukashenko said that Jews had turned the city of Bobruisk turned into a "pigsty."
As of 2009, some 13,300 Jews live in Belarus in a population of 9.5 million.
* * *
Source: Tablet Magazine
* * *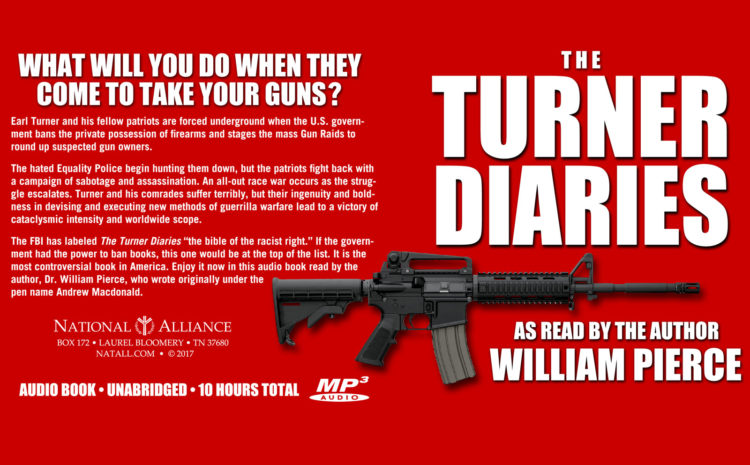 Listen: Turner Diaries commercial
OUR NEW, remastered audio book edition of The Turner Diaries read by the author, Dr. William Pierce, is now available. You can get your copy now — the CDs are are shipping as soon as orders come in.
The original recordings, made by Dr. Pierce and Kevin Strom on reel-to-reel tape in 1995, had been digitized in the early 2000s, but that digitization process was primitive compared to what we are capable of today; we have remastered this important work using the latest software — and we did it the careful, slow, difficult, craftsman-like way — the way Dr. Pierce would have wanted it.
We are proud to offer you the result, which can be ordered online via http://natall.com/td or by postal mail from National Alliance, Box 172, Laurel Bloomery TN 37680 USA. The fidelity of the disc is excellent: On a good speaker system, it sounds as if Dr. Pierce is with you, reading his book to you personally. There is nothing quite like hearing the man who created The Turner Diaries read it to you himself. And, by purchasing this mp3-CD, you will be supporting the important work of the National Alliance.
Listen: Turner Diaries commercial
* * *