"We Were Fierce Jewish Women": Pro-Perversion Children's Story Was Created by Jews
Heather Has Two Mommies was one of many Jewish efforts to normalize homosexuality
LESLEA NEWMAN'S (pictured) iconic picture book "Heather Has Two Mommies" had a simple beginning. A woman approached Newman on the street in Northampton, Massachusetts, where she lived at the time, and said her family needed a book to which her daughter could relate.
Meaning that she wanted to read a book to her daughter that featured a family with two moms.
"I knew what her daughter felt like," Newman, 59, said in a recent interview. "I grew up in Brooklyn and Long Island without books about Jews. Also, the prescribed lives that I saw in my childhood were not for me. I didn't want to marry a man and have children. Yet I didn't come out until I was 27, and when I did I realized that many people would have a difficult time accepting me."
"Heather" was initially self-published in 1989 by Newman and her publisher and friend Tzivia Gover, its small print run financed with the $4,000 the two raised through a letter-writing campaign.
"People were scared to publish 'Heather' even though there was a need for it," Newman said. "No one would touch it. But we were fierce Jewish women."
Within a year, "Heather" was picked up by Alyson Publications and became one of the first titles in its newly formed Alyson Wonderland imprint. It wasn't long after that the story about a little girl with purple cowboy boots was grabbing headlines, thanks in large part to its inclusion on a New York City Department of Education list of recommended books about various types of families.
One of the only LGBT-themed book on the list, "Heather" and its supporters were attacked by the head of a school district in Queens who declared "war" on the book and sent a letter to parents warning that their children were going to be taught about sodomy — a topic the book obviously does not address. The district president sent out over 30,000 letters to district parents decrying the book as "dangerous homosexual propaganda."
Over the years, there have been attempts to remove "Heather" from library shelves. In one instance, copies of the book were returned with the pages glued shut. In Texas, a woman checked out all the copies in her library and refused to return them.
The book's 25-year anniversary "occurs when gay marriage is legal in 37 states," Newman noted. "And 'Heather Has Two Mommies' is a catchphrase that has entered the popular culture.
"When I was growing up, women were not allowed on the bimah," she added, referring to the section of the synagogue from which the Torah is read. "Now you can have two moms on the bimah."
James Cohen, acting executive director of Keshet, a Jewish LGBT advocacy group, said, "We're indebted to Leslea Newman for giving the world 'Heather Has Two Mommies. As a gay father, I have special gratitude that Leslea's sweet story helped make LGBT families visible and opened the door for children's books with LGBT moms and dads."
Keshet honored Newman in 2010 with the organization's Hachamat Lev Award and featured her in its LGBT Jewish Heroes poster series.
The book's original edition, illustrated in black and white by Diane Souza, reflected its small budget. The 25-year anniversary edition, published by Candlewick Press, has been revamped with full-color illustrations by Laura Cornell.
Although Newman declines to reveal the financials on her book, Publishers Weekly estimates that "Heather" has sold nearly 35,000 copies. And the book remains steadfast in its message. "Each family is special," as Heather's preschool teacher Ms. Molly says toward the book's conclusion. "The most important thing about a family is that all the people in it love each other."
Publishers Weekly estimates that 'Heather' has sold nearly 35,000 copies
Since publishing her first book in 1986, a young adult novel about a young woman struggling with an eating disorder and her sexual identity, Newman has written over 60 books. Many of them are children's titles and, although she does not have children of her own, she finds that in writing for kids she encounters "emotions that are so raw and personal the child in me needs to be soothed."
Newman has been married to her wife for over 25 years and describes their first wedding ceremony as a "co-mitzvah." The two married again in 2004 when gay marriage became legal in her home state of Massachusetts.
Newman is certain that her Heather, if she were real, would object to an open letter to the gay community that a woman named Heather Barwick recently published. Barwick, who grew up with two mothers, declared in the letter that children need a mother and father.
With the Supreme Court hearing arguments on making marriage equality the law of the land, attitudes toward gays and lesbians have transformed considerably since "Heather" was published. However, Newman noted that many students and parents still opt out and refuse to participate in school programs on gay subjects.
"There is still a fear of gay content," she said. "Things have and have not changed."
* * *
Source: Times of Israel
* * *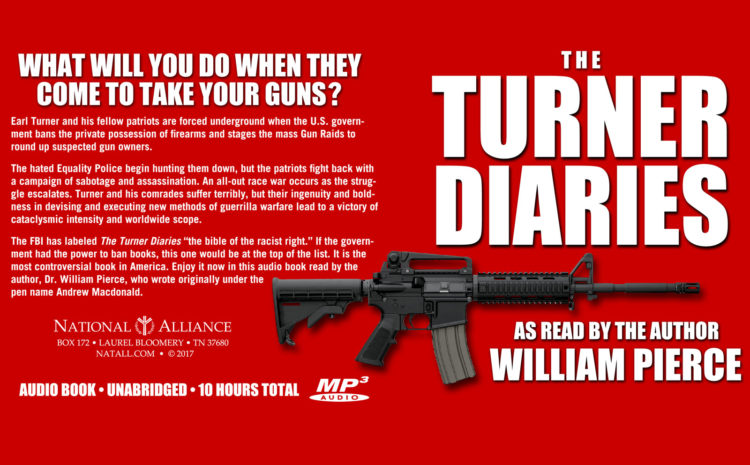 Listen: Turner Diaries commercial
OUR NEW, remastered audio book edition of The Turner Diaries read by the author, Dr. William Pierce, is now available. You can get your copy now — the CDs are are shipping as soon as orders come in.
The original recordings, made by Dr. Pierce and Kevin Strom on reel-to-reel tape in 1995, had been digitized in the early 2000s, but that digitization process was primitive compared to what we are capable of today; we have remastered this important work using the latest software — and we did it the careful, slow, difficult, craftsman-like way — the way Dr. Pierce would have wanted it.
We are proud to offer you the result, which can be ordered online via http://natall.com/td or by postal mail from National Alliance, Box 172, Laurel Bloomery TN 37680 USA. The fidelity of the disc is excellent: On a good speaker system, it sounds as if Dr. Pierce is with you, reading his book to you personally. There is nothing quite like hearing the man who created The Turner Diaries read it to you himself. And, by purchasing this mp3-CD, you will be supporting the important work of the National Alliance.
Listen: Turner Diaries commercial
* * *