Top United Nations Official Says Europe Must Open its Borders to Syrian Refugees
Antonio Guterres is former head of the Socialist International.
BORDERS MUST BE "open to Syrians everywhere," including in Europe, to help ease the burden of Middle Eastern countries that have absorbed close to 4 million Syrian refugees, the head of the U.N. refugee agency said Saturday.
Antonio Guterres (pictured) also appealed to the international community to boost development aid to refugee host countries such as Jordan and Lebanon.
"They are the first line of defense for global collective security and they are pillars, essential pillars, for regional security," Guterres told The Associated Press at a regional World Economic Forum conference. "If they fall, the consequences will be dramatic for the whole world."
Close to 15 million people already have been uprooted by conflicts in Syria and Iraq, Guterres said, adding that "many of those displaced live in absolute misery."
At the same time, international aid agencies and governments of refugee host countries struggle with a growing funding gap for efforts to alleviate the crisis. They requested $8.4 billion for this year, including $2.9 billion for work inside Syria and $5.5 billion for refugees and their host countries.
Both programs so far have received only about one-fifth of the needed funds, U.N. officials have said.
Guterres said the world can show greater solidarity by giving more support to host countries and by opening borders.
"We cannot ask these countries to keep their borders open and to close other borders," he said. "So it is also absolutely essential that borders are open to Syrians everywhere, that more legal avenues are created for people to come to Europe," such as resettlement and family reunification programs.
He said this would be a "clear expression of burden-sharing with these countries to … allow them to feel that they are not alone with this tragic impact of the Syrian crisis in their own lives."
European governments are sharply divided over the issue, including proposals to set country quotas for absorbing refugees as a way of sharing the burden more evenly. Only a few European countries, including Germany, have taken in Syrian refugees.
* * *
Source: The China Post
* * *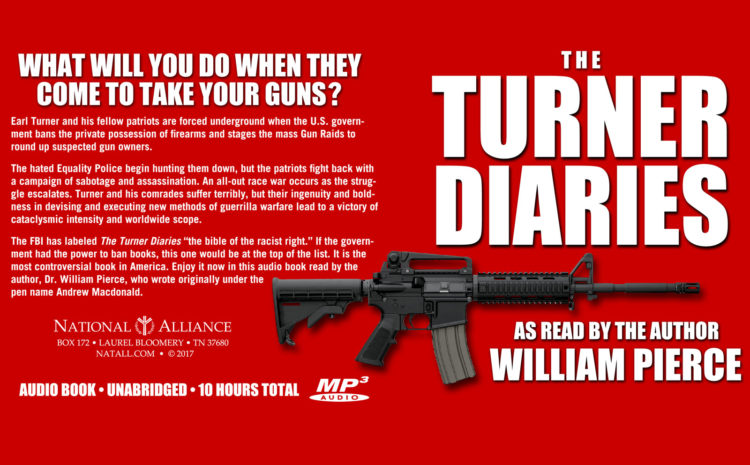 Listen: Turner Diaries commercial
OUR NEW, remastered audio book edition of The Turner Diaries read by the author, Dr. William Pierce, is now available. You can get your copy now — the CDs are are shipping as soon as orders come in.
The original recordings, made by Dr. Pierce and Kevin Strom on reel-to-reel tape in 1995, had been digitized in the early 2000s, but that digitization process was primitive compared to what we are capable of today; we have remastered this important work using the latest software — and we did it the careful, slow, difficult, craftsman-like way — the way Dr. Pierce would have wanted it.
We are proud to offer you the result, which can be ordered online via http://natall.com/td or by postal mail from National Alliance, Box 172, Laurel Bloomery TN 37680 USA. The fidelity of the disc is excellent: On a good speaker system, it sounds as if Dr. Pierce is with you, reading his book to you personally. There is nothing quite like hearing the man who created The Turner Diaries read it to you himself. And, by purchasing this mp3-CD, you will be supporting the important work of the National Alliance.
Listen: Turner Diaries commercial
* * *