Hellstorm: The Biggest Cover-Up In History
The real story of the genocide of National Socialist Germany
How You Can Help Promote This Documentary
Please do whatever you can to make this powerful documentary go viral. There are a number of ways you help, which are quick and easy.
1. Share the link to hellstormdocumentary.com everywhere you can.
Sharing this link is better than a youtube link, as the youtube video may get taken down, but there will always be a version up at this site. We don't want your efforts to be wasted. You can post this link on social network sites like Facebook, Twitter, Reddit, etc. but also in the comments section of articles, especially ones that deal with the "Holocaust" or other relevant topics.
2. Write a review.
If you have a blog or a website, you can write about your experience watching Hellstorm. You can also simply post the video and a synopsis.
3. Help generate press through interview.
We are open for written, audio, and video interviews, so please let us know if you or someone you know has a media platform and would be interested in discussing the content of this film.
4. Set up screenings for friends, family, and neighbors.
Hook up the video to a big screen or even rent a projector and a hall. Invite everyone you know. You can even entice them with the promise of punch and pie.
5. Call in to radio shows and TV program.
Ask the host or guest why he or she is not talking about the truth found at HellstormDocumentary.com, which exposes the Allied genocide of Germans during and after World War II.
6. Download the video and then burn DVDs.
If you do not know how to download a youtube video, you can easily use http://keepvid.com to do so. Most computers these days have the hardware and software to burn DVDs, which are very cheap, and easy to hand out.
7. Create memes.
You can come up with clever images, short videos, or small snippets of texts that can be used to reach large numbers of people. These can be turned into business cards, bumper stickers, buttons and signs. Please let us see what you come up with, so we can share your work with everyone else.
8. Think outside the box.
Perhaps we missed something. In that case, let us know what your big idea is. Or better yet, go out there, do it, and then report back about its success.
* * *
Source: Hellstorm Documentary
* * *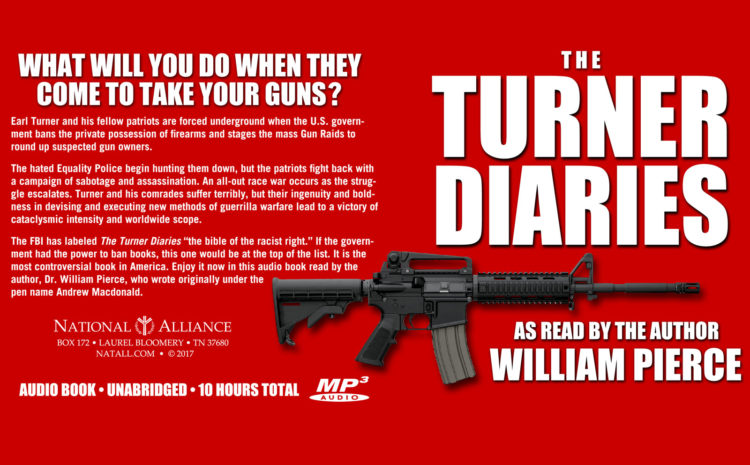 Listen: Turner Diaries commercial
OUR NEW, remastered audio book edition of The Turner Diaries read by the author, Dr. William Pierce, is now available. You can get your copy now — the CDs are are shipping as soon as orders come in.
The original recordings, made by Dr. Pierce and Kevin Strom on reel-to-reel tape in 1995, had been digitized in the early 2000s, but that digitization process was primitive compared to what we are capable of today; we have remastered this important work using the latest software — and we did it the careful, slow, difficult, craftsman-like way — the way Dr. Pierce would have wanted it.
We are proud to offer you the result, which can be ordered online via http://natall.com/td or by postal mail from National Alliance, Box 172, Laurel Bloomery TN 37680 USA. The fidelity of the disc is excellent: On a good speaker system, it sounds as if Dr. Pierce is with you, reading his book to you personally. There is nothing quite like hearing the man who created The Turner Diaries read it to you himself. And, by purchasing this mp3-CD, you will be supporting the important work of the National Alliance.
Listen: Turner Diaries commercial
* * *