Jewish "Expert": US Suffering From "Institutional Anti-Semitism"
Now we've surely heard it all: Even talking with Muslims without making "Jew hatred" the main focus of the discussion proves that you are "anti-Semitic" — even if you're sending $12 million a day to Israel.

THE AMERICAN failure to highlight Jew-hatred when engaging with entities such as Iran and the Muslim Brotherhood may be defined as "institutional anti-Semitism," an expert on the topic told The Jerusalem Post. (ILLUSTRATION: Dr. Charles Asher Small, director of the Institute for the Study of Global Anti-Semitism and Policy.)
In Israel to address a conference on far-right radicalism at the Interdisciplinary Center Herzliya on Thursday, Charles Asher Small, director of the Institute for the Study of Global Anti-Semitism and Policy, further expressed the view that American Jews have not engaged with the issue.
"I think that the American Jewish organizational establishment is more willing to speak clearly on European anti-Semitism [than] what is going on in the United States," he said. "It is easier to look at the anti-Semitism far away than it is to look at the anti-Semitism within American society."
Small was careful to explain that while he was far from accusing any members of the current administration of harboring anti-Semitic attitudes, he believed that a sort of functional anti-Semitism exists.
As the US takes part in dialogues with the Muslim Brotherhood and Islamic Republic it fails to bring up the issue of the "genocidal agenda of anti-Semitism" that both bodies have expressed, he said.
"To not deal with anti-Semitism is not only immoral but I would call it, and this is coining a phrase, institutional anti-Semitism."
Riffing off the term institutional racism coined by Stokely Carmichael and Charles V. Hamilton during the 1960s, Small explained that both concepts relate to a system in which "individuals may not be racist, individuals in this case may not be anti-Semitic, but there is an institutional culture which promotes certain types of behavior. And when an administration is engaging those who want to exterminate Jews, and [by] not engaging this immoral and horrific form of hatred they give oxygen to it and allow it to fester."
"Can you imagine dealing with the apartheid regime, negotiating with it, and not mentioning racism?" he asked.
Small added that he agreed with a recent assessment by thinker David Hazony, who asserted in an article that the "myth of Israeli centrality" to the world's problems, a common perception in certain policy and academic circles, is functionally anti-Semitic and that those who believe in it are spreading a modern version of the ancient trope of Jewish complicity in all of the world's problems even if they themselves are not anti-Semitic.
"In the modern reinvention of the idea, however, it is not the Jewish people but the Jewish state that is the core problem in the world, the key obstacle to betterment. The claim takes different forms and has long been fueled by the propaganda juggernaut of the Arab world. By the time it reaches the softer shoals of places like Foggy Bottom, of course, it goes through a filtration system of bureaucratic qualifiers," Hazony wrote in a recent issue of the online magazine Tower.
"I think that there are still people in the United States and administration who believe that if it were only for the settlements jihad would dissipate," Small commented.
"There are people who still hold on to these views and its irrational thinking."
* * *
Source: The Jerusalem Post
* * *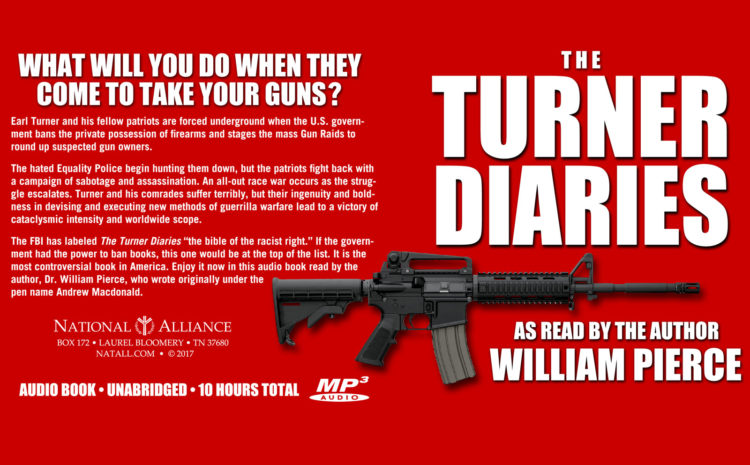 Listen: Turner Diaries commercial
OUR NEW, remastered audio book edition of The Turner Diaries read by the author, Dr. William Pierce, is now available. You can get your copy now — the CDs are are shipping as soon as orders come in.
The original recordings, made by Dr. Pierce and Kevin Strom on reel-to-reel tape in 1995, had been digitized in the early 2000s, but that digitization process was primitive compared to what we are capable of today; we have remastered this important work using the latest software — and we did it the careful, slow, difficult, craftsman-like way — the way Dr. Pierce would have wanted it.
We are proud to offer you the result, which can be ordered online via http://natall.com/td or by postal mail from National Alliance, Box 172, Laurel Bloomery TN 37680 USA. The fidelity of the disc is excellent: On a good speaker system, it sounds as if Dr. Pierce is with you, reading his book to you personally. There is nothing quite like hearing the man who created The Turner Diaries read it to you himself. And, by purchasing this mp3-CD, you will be supporting the important work of the National Alliance.
Listen: Turner Diaries commercial
* * *