Green Party Increasingly Aware of Toxic Jewish Power
EDITOR'S NOTE: Many environmentally-concerned people, including but not limited to the more sane members of the Green Party, have become aware of the toxic nature of Jewish power in recent years. To some extent, this has been a result of their study of the finance-capitalist system that is killing our race and fouling our environment. In this piece, the Jewish Daily Forward expresses alarm that their leftist lapdogs have begun the first stages of rebellion.
AT A FORUM with voters in February, Green Party leader Natalie Bennett was asked what she would do to ensure that Jews feel safe in Britain. Bennett rambled on vaguely about funding inter-communal dialogue without even mentioning Jews, indicating that the problem of anti-Semitism was one she had never thought about before. (ILLUSTRATION: Natalie Bennett, leader of The Green Party of England and Wales)
The Greens have emerged in recent years in England as a left-wing alternative to Labor and the Liberal Democrats, but increased representation has also brought closer scrutiny, including how their commitment to a society free from discrimination relates to Jews.
We've known for a while that the Greens have an Israel problem. Their current manifesto includes pledges to halt arms sales to Israel — equating them with Saudi Arabia as a violator of human rights — and suspend the E.U.-Israel Association Agreement, which grants Israel economic benefits and closer scientific and cultural cooperation with Europe.
The Greens support either a one- or two-state solution, and call on Israel to repeal its Law of Return as "it is incompatible with the full exercise of human rights and discriminates against Palestinians because they are not Jewish." They also favor the full implementation of U.N. Resolution 194, with all that would portend for Israel's status as a Jewish state.
But the Greens don't just have issues with Zionism. As early as 2010, observers noted that "too often a sympathy for the plight of Palestinians spills over into full-blown anti-Semitism."
Internal party communications reveal that articles by the fascist British National Party and white supremacist David Duke have been circulated on party discussion forums. Other posts on these forums have referred to the Board of Deputies of British Jews as the "Zionist lobby," adding "we must smash the Zionists." Zionism in these discussions has been characterized as a form of racial discrimination, "incompatible with Green views," and "an ancient theological fantasy." During Operation Protective Edge, Israel was accused of visiting a second Holocaust upon the Palestinians.
Not all Green anti-Semitism is private. One local councilor tweeted an article by the notorious Jew-hater Gilad Atzmon, calling for Britain to "de-Zionize" itself. The current leader of the Welsh Greens, Pippa Bartolotti, has objected to "having a Jewish Zionist ambassador in Israel," calling his independence and loyalty into question. "From the university of life I have learned that Jews often have a conflict of interest in matters relating to Palestine," Bartolotti said.
When such actions have been challenged by Green Party members, members with Jewish surnames have been labeled Nazi infiltrators and agents of Israel. Toby Green, who led an internal working group investigating anti-Semitism, resigned his Green membership in 2011, writing "it has become clear that the Green Party is institutionally anti-Semitic. Its institutions have not dealt with clear evidence of anti-Semitism."
"For deep-seated political and emotional reasons it is incapable of dealing with" anti-Semitism, Green concluded. The Greens do not take it seriously as an issue, internally or externally. In their manifesto, they do not outline any policy to tackle societal anti-Semitism. It isn't mentioned once. In the 84-page document, their only reference to Jewish issues relates to ensuring Jewish schools are "adequately protected from sectarian attacks."
Whether they are institutionally anti-Semitic is questionable, but sadly along with much of the European farther left, they fail to see how anti-Zionism can bleed into anti-Semitism, nor how an anti-racist party can have within it anti-Semitic elements. Above all, the Greens are unable to comprehend anti-Semitism as something unique, a prejudice distinct from other forms of racism and discrimination with its own characteristics and manifestations, one that must be rooted out in and of itself.
* * *
Source: Jewish Daily Forward
* * *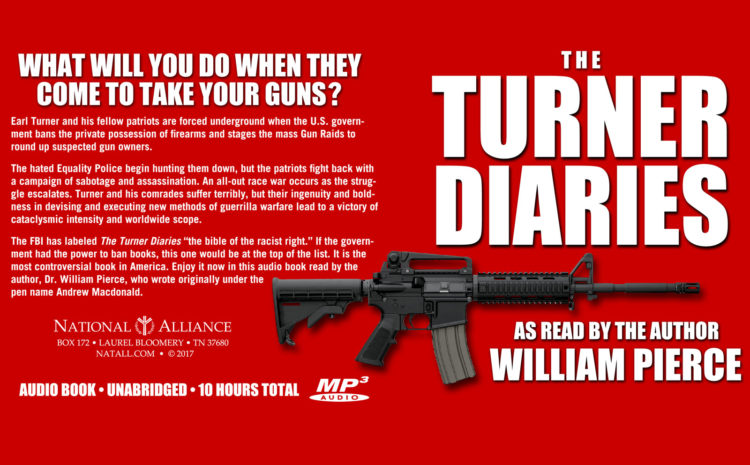 Listen: Turner Diaries commercial
OUR NEW, remastered audio book edition of The Turner Diaries read by the author, Dr. William Pierce, is now available. You can get your copy now — the CDs are are shipping as soon as orders come in.
The original recordings, made by Dr. Pierce and Kevin Strom on reel-to-reel tape in 1995, had been digitized in the early 2000s, but that digitization process was primitive compared to what we are capable of today; we have remastered this important work using the latest software — and we did it the careful, slow, difficult, craftsman-like way — the way Dr. Pierce would have wanted it.
We are proud to offer you the result, which can be ordered online via http://natall.com/td or by postal mail from National Alliance, Box 172, Laurel Bloomery TN 37680 USA. The fidelity of the disc is excellent: On a good speaker system, it sounds as if Dr. Pierce is with you, reading his book to you personally. There is nothing quite like hearing the man who created The Turner Diaries read it to you himself. And, by purchasing this mp3-CD, you will be supporting the important work of the National Alliance.
Listen: Turner Diaries commercial
* * *