Nearly One Million Italian School Kids Are Immigrants
IN 2001 to 2002, there were 196,000 foreign students in Italian schools; making about 2.2% of the total school population.
Since then, this figure has more than quadrupled in 2013-2014 to 803,000 foreign students; making them 1 in 10 of all Italian students.
This data compiled by the Italian Ministry of Education shows that while some of the African and Middle Eastern immigrants do stay in Italy, most prefer to move on to Northern and Central European countries.

Education Minister, Stefania Giannini, recently opened an event in Rome entitled 'Schools in a multicultural context. Promoting and governing integration' 
He said the biggest issue was that immigrants had not been assimilated, and suggested more policies "focusing on language.
"We want to provide to schools the scientific and educational tools, and appropriate organizational and give centrality to language training because language is the passport of communication and integration"
Despite the protests, strikes, and riots, the Italian navy is still being used to ferry illegal African immigrants from their boats to Italian immigration centers.
Europe has been kept majority White for millennia, and that wasn't done with open borders. The Ottoman Empire or the Huns, or the countless other non-White groups would have snatched up our countries long ago if we had the "open borders" and "multiculturalism" we have today.
And today, because of these policies, we see Europe – along with non-Euro White countries – turning minority White.
These policies are a deliberate attempt by our political class to get rid of us. They don't have to live around the "diversity" they demand we do, and so they push for White genocide.
* * *
* * *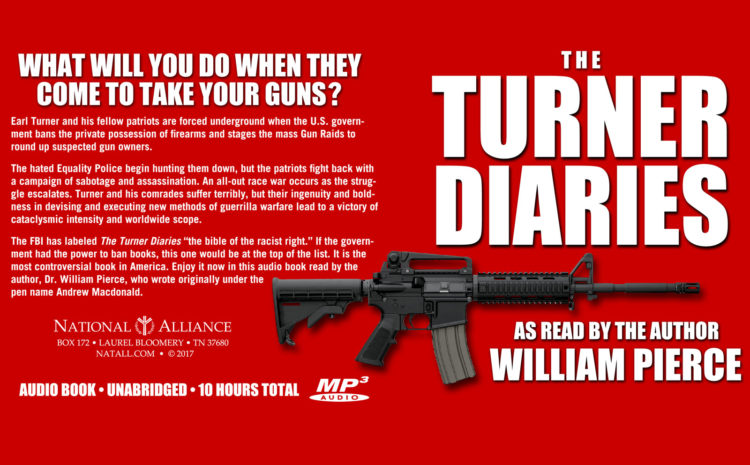 Listen: Turner Diaries commercial
OUR NEW, remastered audio book edition of The Turner Diaries read by the author, Dr. William Pierce, is now available. You can get your copy now — the CDs are are shipping as soon as orders come in.
The original recordings, made by Dr. Pierce and Kevin Strom on reel-to-reel tape in 1995, had been digitized in the early 2000s, but that digitization process was primitive compared to what we are capable of today; we have remastered this important work using the latest software — and we did it the careful, slow, difficult, craftsman-like way — the way Dr. Pierce would have wanted it.
We are proud to offer you the result, which can be ordered online via http://natall.com/td or by postal mail from National Alliance, Box 172, Laurel Bloomery TN 37680 USA. The fidelity of the disc is excellent: On a good speaker system, it sounds as if Dr. Pierce is with you, reading his book to you personally. There is nothing quite like hearing the man who created The Turner Diaries read it to you himself. And, by purchasing this mp3-CD, you will be supporting the important work of the National Alliance.
Listen: Turner Diaries commercial
* * *