Jewish Groups Received 97% of $10 Million DHS "Defense Grants"
Jewish non-profits received a record percentage of DHS grants: 3% of the population — 97% of the money
THE ISRAELI newspaper Haaretz reports:
Jewish non-profit organizations in the United States will receive 97 percent of the funds granted by the Department of Homeland Security for the fiscal year 2012, money which is aimed at dealing with security threats those institutions face. (ILLUSTRATION: The National Hanukkah Menorah in front of the White House)
In 2012, Jewish institutions in the U.S. will receive $9.7 million, or 97 percent of the funds intended for dealing with security threats, as part of the Vital Nonprofit Security Grants distributed by the Department of Homeland Security.
In 2009, when the white supremacist James W. von Brunn opened fire at the Washington Holocaust Museum, killing a guard, Jewish NGOs received over $9 million out of $15 million allocated to 227 non-profit organizations, aimed to "bolster the security of nonprofit institutions deemed by the Department of Homeland Security to be vulnerable to terrorist attacks."
In 2010, Jewish institutions received $15 million of the total sum of $19 million distributed by Homeland Security.
However, in recent years the budget has been shrinking, while the threat level has not changed, resulting in Jewish non-profits — community centers, schools, hospitals, synagogues and charities — primed to receive a record percentage of next year's non-profit funding.
"I'd gladly trade out threat level not to qualify for these grants," William Daroff, vice president for Public Policy of The Jewish Federations of North America told Haaretz.
"Any non-profit in the largest urban areas can apply for these grants, and determinations are made solely on the threat level Homeland Security officials assess each institution faces."
Daroff explained that most of the funds are usually used for the purchase of closed circuit TVs, vehicle barriers and blast proof glass, while a small amount is designated for training.
"In the post-9/11 era it's clear that Jewish institutions are at an increased threat level, and we are briefed more often than we wish by the local and federal officials on potential threats," Daroff said, adding that the "threats are there, but it's always a struggle to ensure funds are there during these times of fiscal hardship, so the lobbying for them is a continuous process."
Kathy Manning, chair of the Board of Trustees of The Jewish Federations of North America, noted that "the Department of Homeland Security has demonstrated a great commitment to protecting at-risk communities. These effective security grants are vital to the ongoing protection of deserving institutions, enabling us to work, worship, gather and learn without fear."
* * *
Source: Haaretz
* * *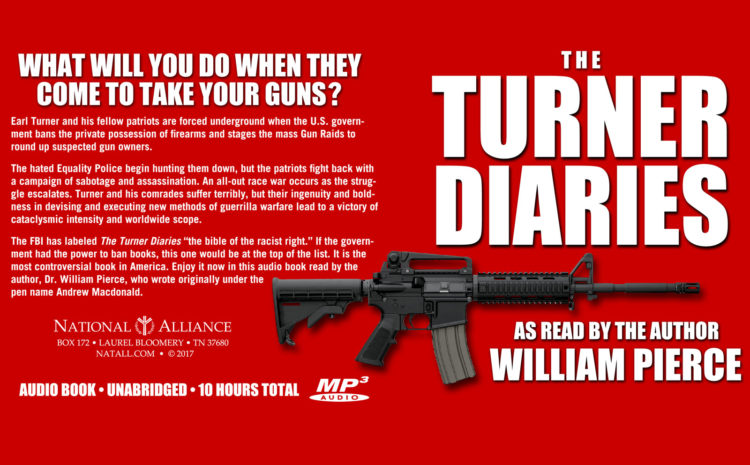 Listen: Turner Diaries commercial
OUR NEW, remastered audio book edition of The Turner Diaries read by the author, Dr. William Pierce, is now available. You can get your copy now — the CDs are are shipping as soon as orders come in.
The original recordings, made by Dr. Pierce and Kevin Strom on reel-to-reel tape in 1995, had been digitized in the early 2000s, but that digitization process was primitive compared to what we are capable of today; we have remastered this important work using the latest software — and we did it the careful, slow, difficult, craftsman-like way — the way Dr. Pierce would have wanted it.
We are proud to offer you the result, which can be ordered online via http://natall.com/td or by postal mail from National Alliance, Box 172, Laurel Bloomery TN 37680 USA. The fidelity of the disc is excellent: On a good speaker system, it sounds as if Dr. Pierce is with you, reading his book to you personally. There is nothing quite like hearing the man who created The Turner Diaries read it to you himself. And, by purchasing this mp3-CD, you will be supporting the important work of the National Alliance.
Listen: Turner Diaries commercial
* * *