ISIS Releases City 'Kill List': Most Towns Included Make Sense to No One
TALK ABOUT a psyop. More ISIS fear porn, anyone?
In an ongoing bid to scare the public with propaganda direct from our government's own creation, it is being publicized in the mainstream media that the Pentagon has responded to what has been dubbed ISIS's "kill list."
The newly released list includes a multitude of US cities, many of which make no sense unless I'm just not seeing it because I'm not a government funded and trained terrorist.
Here's the list of cities by state (copied and pasted spellings and all directly from News Channel 10 out of Amarillo, Texas):
Texas: Abilene, New Braunfels, San Antonio, Wyle, Fort Hood, Bedford, Kileen

Indiana: Michigan City, Bolivar

Michigan: Dearborn Heights, Lake Orion

Connecticut: Barkhamsted, Manchester

Nevada: Reno

Georgia: Griffin

Maryland: Upper Marlboro, Warrensburg, Lexington Park

Arizona: Phoenix

Louisiana: Shreveport, Bossier City

South Carolina: Daniel Island, Charleston

North Carolina: Fayetteville, New Bern

Virginia: Burke, Virginia Beach, Suffolk, Springfield, Norfolk, Chesapeake

Colorado: Colorado Springs

California: Manford, Solvang, San Ardo, Monterrey, Newberry Park, Carlsbad

New Mexico: Farmington

North Dakota: Minot

South Dakota: Rapid City

Florida: Merritt Island, Palm Coast, Saint John, Middleburg, Saint Augustine

Washington: Colton, Cheney, Seattle, Spokane, Ancortes

Nebraska: Bellvue

Illinois: Orland Park

Rhode Island: Newport

Idaho: Bonners Ferry
Sorry to be so flippant, but is this the waiting list for DHS funding or…?
I've asked around to friends and family, including a geography whiz with a degree in politics well-versed in geopolitical issues and the fraud that is the War on Terror. Most of these places we've never even heard of to be honest.
Some make sense; well-known cities such as Seattle, Washington or Reno, Nevada or Colorado Military-Industrial Complex Springs, Colorado. Ft. Hood, Texas has a large military base, for example. I could maybe even see Dearborn Heights, Michigan with its vast Muslim population…but…
New Braunfels, Texas? Really? Do the terrorists hate water parks and kolaches?
[Edit — Great comment from ThistleMeThis below: "Pathetically crafted propaganda is hilarious, I had to google Colton WA, population 418 wtf."]
I did see two chinook helicopters flying in tandem over my house in central Texas earlier, headed toward Ft. Hood, but I was informed by a friend on Facebook that it likely has to do with a civil unrest drill involving some 3,000 soldiers and not this.
I guess this list is supposed to scare Mr. and Mrs. America that terrorists can target you anywhere at total random for no reason other than because they hate our supposed freedom?
Well it can't be that either. New York, where our new freedom tower was built on the ashes of 9/11, isn't even on the list.
Military and police patrols and security are set to increase in these cities under the potential terrorist threat.
In addition, the list reportedly included publicly available information (including names, addresses, and social media posts) of various U.S. servicemen with orders for US sympathizers to kill the soldiers, so security and police presence will reportedly increase in their neighborhoods as well.
* * *
Source: Freedom Outpost
* * *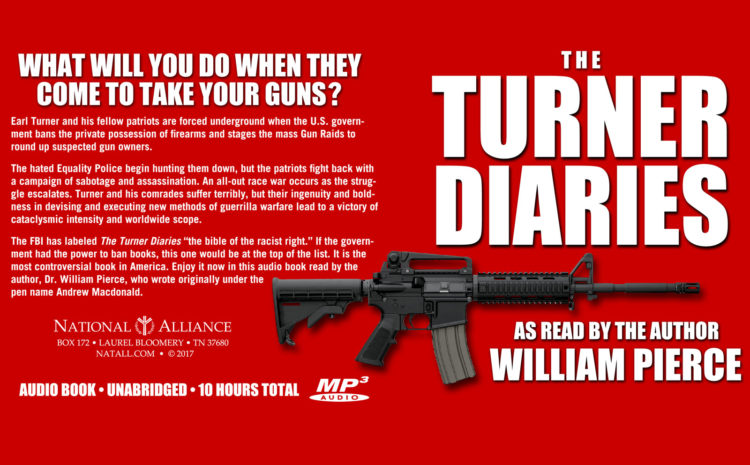 Listen: Turner Diaries commercial
OUR NEW, remastered audio book edition of The Turner Diaries read by the author, Dr. William Pierce is now available. You can get your copy now — the CDs are are shipping as soon as orders come in.
The original recordings, made by Dr. Pierce and Kevin Strom on reel-to-reel tape in 1995, had been digitized in the early 2000s, but that digitization process was primitive compared to what we are capable of today; we have remastered this important work using the latest software — and we did it the careful, slow, difficult, craftsman-like way — the way Dr. Pierce would have wanted it.
We are proud to offer you the result, which can be ordered online via http://natall.com/td or by postal mail from National Alliance, Box 172, Laurel Bloomery TN 37680 USA. The fidelity of the disc is excellent: On a good speaker system, it sounds as if Dr. Pierce is with you, reading his book to you personally. There is nothing quite like hearing the man who created The Turner Diaries read it to you himself. And, by purchasing this mp3-CD, you will be supporting the important work of the National Alliance.
Listen: Turner Diaries commercial
* * *