European Nationalists Meet in St. Petersburg
EDITOR'S NOTE: It was an interesting and wildly disparate, even sometimes contradictory, collection of nationalists there, from Cossacks to the NPD to Jared Taylor — even Revilo Oliver's old friend Sam Dickson was there.

by Nathanael Strickland

ON SUNDAY, members of over a dozen right-wing nationalist parties from across Europe and representatives from even more nationalist groups met with their counterparts in St. Petersburg, Russia, for the first International Russian Conservative Forum. The event was organized by the Russian nationalist party Rodina, and representatives from Cossack traditionalist groups were in attendance. The European political parties involved included:
Attack (Ataka), Bulgaria
Freedom Party of Austria (Freiheitliche Partei Österreichs, FPÖ), Austria
Serbian Radical Party (Srpska radikalna stranka), Serbia
British National Party (BNP), United Kingdom
The Alliance for Peace and Freedom (APF) was also present. The APF is a newly established umbrella organization established in Rome on February 4, 2015, represented by the following parties:
New Force (Forza Nuova), Italy
National Democratic Party of Germany (Nationaldemokratische Partei Deutschlands, NPD), Germany
Party of the Swedes (Svenskarnas parti), Sweden
Golden Dawn (Chrysí Avgí), Greece
National Democracy (Democracia Nacional), Spain
Nation, Belgium
Danish Party (Danskernes Parti), Denmark
One of Russia's liberal newspapers had this to say about the event:
The forum's speakers collectively ticked off all the boxes of intolerance and anti-Western sentiment, egged on by the enthusiasm of the audience filling a conference room at the St. Petersburg Holiday Inn. Through the course of the day, U.S. President Barack Obama was called a Nazi, white Christians were urged to reproduce, gays were referred to as perverts, and murdered Russian opposition activists were said to be resting in hell.

United in their contempt for all things EU and their yearning for a socially conservative society, Russia and the extremes of the European political spectrum have forged a tacit alliance. Far-right leaders' periodic visits to Moscow, combined with Russian banks' magnanimity toward political entities that European creditors have shunned, have suggested that these parties' gains in popularity could shift EU policy in Russia's favor and undermine the union's stance on the crisis in Ukraine.
Of course, the "anti-Western sentiment" referenced here is opposition to the commercialism, decadence, degeneracy, and warmongering currently peddled by the U.S. and the EU, not opposition to any true Western values and peoples.
The conference was forced to end thirty minutes early when the "violent" nationalists were forced to evacuate the hotel after one of the "peaceful" protesters called in a bomb threat.
This continues the interesting balancing act Russia has pursued under Putin, vilifying fascism and Nazism and celebrating Soviets, while at the same time forging political and financial ties with modern-day European nationalists and traditionalists. My best guess is that this an intentional strategy to shield themselves from accusations of Nazism and to solidify a national narrative of pride and victory in the Soviet years, all while quietly abandoning those years' Communist underpinning and ideology in favor of an Orthodox Czarist outlook. This appears to be a strategy of denouncing the typical nationalist "bad guys" without indicating any truly anti-nationalist sentiments on the Kremlin's part. While I would quibble with this approach, what tangible actions Russia is taking today to support European nationalism is far more important than how they choose to spin events from seventy-five years ago.
* * *
Source: Faith and Heritage
* * *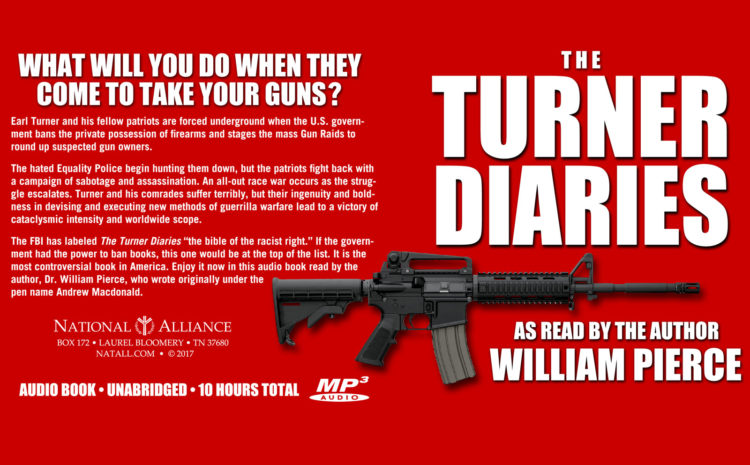 Listen: Turner Diaries commercial
OUR NEW, remastered audio book edition of The Turner Diaries read by the author, Dr. William Pierce, is now available. You can get your copy now — the CDs are are shipping as soon as orders come in.
The original recordings, made by Dr. Pierce and Kevin Strom on reel-to-reel tape in 1995, had been digitized in the early 2000s, but that digitization process was primitive compared to what we are capable of today; we have remastered this important work using the latest software — and we did it the careful, slow, difficult, craftsman-like way — the way Dr. Pierce would have wanted it.
We are proud to offer you the result, which can be ordered online via http://natall.com/td or by postal mail from National Alliance, Box 172, Laurel Bloomery TN 37680 USA. The fidelity of the disc is excellent: On a good speaker system, it sounds as if Dr. Pierce is with you, reading his book to you personally. There is nothing quite like hearing the man who created The Turner Diaries read it to you himself. And, by purchasing this mp3-CD, you will be supporting the important work of the National Alliance.
Listen: Turner Diaries commercial
* * *