Are These the Sons He Dreams of? — Black Murderer Offers "Apology"
But the "apology" was to Michael Brown and other Blacks, not to the families of the White victims he had tortured and killed.
A BLACK murderous thug who was convicted along with his partner in crime (pictured) for the brutal execution-style murder of two white teens in Detroit shocked and angered an entire courtroom when he abused his chance to offer an apology to the grieving families in attendance.
Frederick Young, the 26-year-old thug who murdered white teens Jacob Kudla and Jourdan Bobbish, showed zero remorse and used his time to apologize to the families of Mike Brown and Eric Garner.
"I'd like to say sorry to the families of Aiyana Jones, Michael Brown, Eric Garner. And I want to apologize to them for not being able to get justice for their loved ones who was murdered in cold blood — and in respect for the peaceful protest, I want to say, 'Hands up, don't shoot. Black lives matter.' That's it your honor," Young said.
The unbelievable show of disrespect came on the heels of emotional testimony from the victim's families, including brothers, mothers and fathers grieving over their tragic loss.
"This crime has affected me personally, destroying my sense of inner peace. I stand here today broken inside. I have sorrow in my heart, soul and every fiber of my being today and I will carry that with me for the rest of my life here on earth," said the mother of Jourdan, Carrie Bobbish.
 The murder, which Young committed with his thug partner, 24-year-old Felando Hunter, was particularly brutal. The two thugs robbed, imprisoned,
tortured and murdered
the two white teens in a vacant lot on the east side of Detroit (H/T
Truth Revolt
).
https://www.youtube.com/watch?v=berfU689REc
* * *
Source: Conservative Tribune
* * *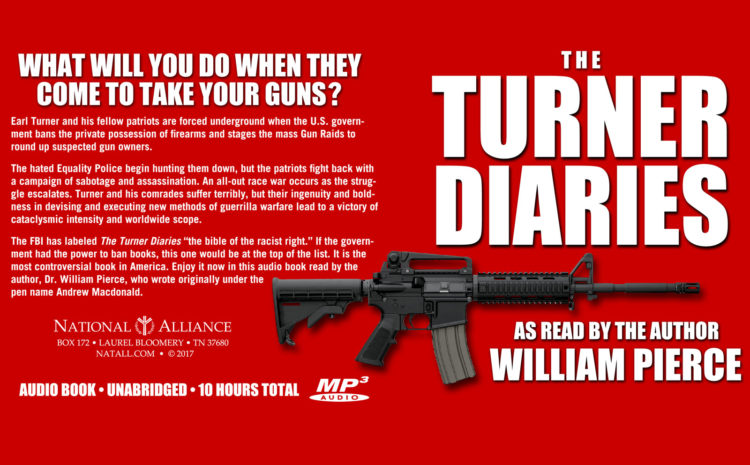 Listen: Turner Diaries commercial
OUR NEW, remastered audio book edition of The Turner Diaries read by the author, Dr. William Pierce, is now available. You can get your copy now — the CDs are are shipping as soon as orders come in.
The original recordings, made by Dr. Pierce and Kevin Strom on reel-to-reel tape in 1995, had been digitized in the early 2000s, but that digitization process was primitive compared to what we are capable of today; we have remastered this important work using the latest software — and we did it the careful, slow, difficult, craftsman-like way — the way Dr. Pierce would have wanted it.
We are proud to offer you the result, which can be ordered online via http://natall.com/td or by postal mail from National Alliance, Box 172, Laurel Bloomery TN 37680 USA. The fidelity of the disc is excellent: On a good speaker system, it sounds as if Dr. Pierce is with you, reading his book to you personally. There is nothing quite like hearing the man who created The Turner Diaries read it to you himself. And, by purchasing this mp3-CD, you will be supporting the important work of the National Alliance.
Listen: Turner Diaries commercial
* * *