Rabbi Accused of Running Divorce Kidnap Team Heads to Trial
LAKEWOOD, N.J. (AP) — When a Jewish woman wanted a divorce from an unwilling husband, federal prosecutors say Mendel Epstein was the rabbi who — for the right price — could gather a kidnap team to make it happen. (ILLUSTRATION: Rabbi Mendel Epstein: Indicted for running a racket forcing unwilling Jewish husbands — by use of torture — to grant a divorce from their Jewish spouse.)
Prosecutors allege Epstein's team would use brutal methods, including martial arts beatings, handcuffs and electric cattle prods, to torture the man into granting the divorce.
"If it can get a bull that weighs 5 tons to move, you put it in certain parts of his body and in one minute the guy will know," prosecutors said the Orthodox rabbi told a pair of undercover FBI agents posing as a brother and sister trying to force the sister's husband to grant the ritual Jewish divorce known as a "get." Prosecutors say he was recorded telling the agents the operation would cost at least $50,000.
The kidnap team brought surgical blades, a screwdriver and rope to a staged kidnapping in 2013, according to the indictment. Epstein, who was indicted last May along with his son and three other Orthodox rabbis, told the undercover agents he arranged similar kidnappings every year or year and a half, the indictment said.
Epstein's trial on attempted kidnapping charges starts Tuesday in federal court in Trenton. Several co-defendants have pleaded guilty in the case; others will go on trial with Epstein.
The charges against Epstein reveal how far some Jewish women are forced to go to obtain a get, which Jewish law says the woman needs to remarry or even date another man.
Defense lawyer Robert Stahl called Epstein a "champion of women's rights." Epstein wrote the 1989 book "A Woman's Guide to the Get Process."
"I think that a lot of information will come out about the supposed victims, and the evidence will not be there that he was involved in certain incidents," Stahl said. "Much more will come to light once the trial gets underway."
Epstein is free on bail. No one answered the door last week at his two-story house in Lakewood, a 25-square-mile community near the Jersey shore where more than 60,000 Orthodox Jews reside.
The allegations against Epstein show the lengths to which an agunah — a Jewish woman whose husband will not give the get — will go for a divorce.
"Without having the get … I have no prospects of getting remarried. I cannot date men. I have no future of having more children," said Rivky Stein, a 25-year-old Brooklyn woman who says she is trying to obtain a get from her husband but isn't involved in the Epstein case. "It just literally locks you in. You're just entirely chained, and, in a sense, you're controlled."
The problem of recalcitrant husbands in the Jewish faith is dealt with in a few ways but can be complicated in the U.S., said Rabbi Mark Dratch, executive vice president of the Rabbinical Council of America. In Israel, he said, husbands who refuse to grant divorces can be imprisoned. Because that can't happen in the United States, communities sometimes exert social pressure on the husband.
"It's embarrassing to the individual and to the community," he said, noting that he doesn't condone the violence alleged in the Epstein case. "It's not such a thing we're proud of."
Stein said she doesn't pardon any crimes Epstein may have committed but has called for the Jewish community to come up with a solution to what she said is a problem of men "distorting Judaism."
"Do I condone it? No. But I understand these women," she said. "I understand their desperation. I understand their pain.
* * *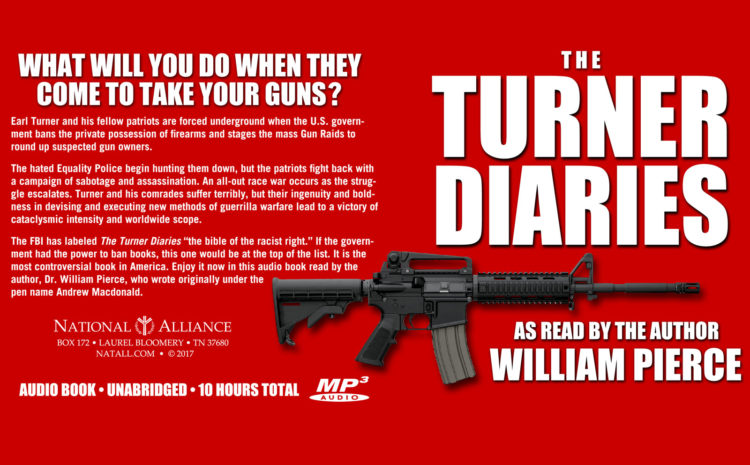 Listen: Turner Diaries commercial
OUR NEW, remastered audio book edition of The Turner Diaries read by the author, Dr. William Pierce, is now available. You can get your copy now — the CDs are are shipping as soon as orders come in.
The original recordings, made by Dr. Pierce and Kevin Strom on reel-to-reel tape in 1995, had been digitized in the early 2000s, but that digitization process was primitive compared to what we are capable of today; we have remastered this important work using the latest software — and we did it the careful, slow, difficult, craftsman-like way — the way Dr. Pierce would have wanted it.
We are proud to offer you the result, which can be ordered online via http://natall.com/td or by postal mail from National Alliance, Box 172, Laurel Bloomery TN 37680 USA. The fidelity of the disc is excellent: On a good speaker system, it sounds as if Dr. Pierce is with you, reading his book to you personally. There is nothing quite like hearing the man who created The Turner Diaries read it to you himself. And, by purchasing this mp3-CD, you will be supporting the important work of the National Alliance.
Listen: Turner Diaries commercial
* * *