New National Alliance Web Site Open for Business
by Malcolm P. Shiel
THE NEW National Alliance Web site, at its traditional address of http://natall.com — which it has used since the 1990s — is one of which every Alliance member can be proud. It will serve as an initial "first impression" and explanation of the Alliance for prospective members,  featuring updated editions of our summary doctrinal statement What We Believe; and the comprehensive, in-depth introduction to our program (and history of the Alliance), our booklet What is the National Alliance? For those new readers with an interest in furthering their education, there are feeds and direct links to National Vanguard and our mentoring/discussion forum, White Biocentrism. For those ready to join — or re-join, now that the Alliance is in capable hands again — there are application and supporter forms available for download.
Now that the National Alliance has regained control of its traditional domains, the nationalalliance.cc domain will be consolidated with natall.com; likewise, natallnews.com will be consolidated with National Vanguard. As we move forward and rebuild the physical and business infrastructure of the Alliance, expect more additions to our online media in 2015!
In the near future, natall.com will add a large collection of William Pierce's and Kevin Strom's essays and radio broadcasts, stored on the old natall and natvan sites, as an archive section on the new organizational site. Many of these timeless pieces will also be published on National Vanguard.
A big thank you to Will Williams, Kevin Strom, and Vanessa Neubauer for their work on this project!
* * *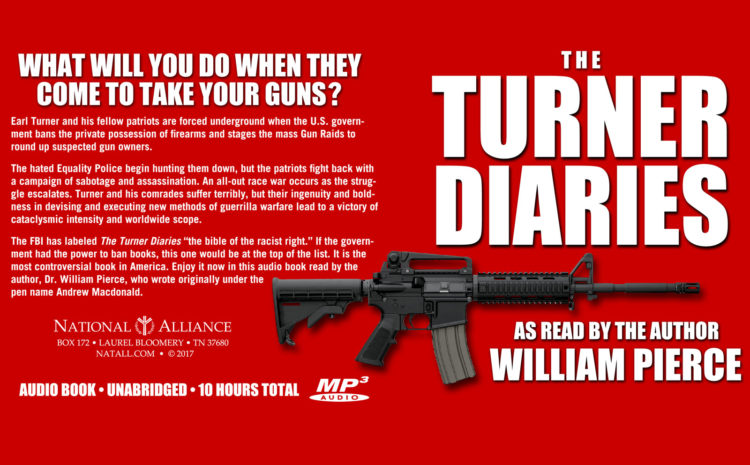 Listen: Turner Diaries commercial
OUR NEW, remastered audio book edition of The Turner Diaries read by the author, Dr. William Pierce, is now available. You can get your copy now — the CDs are are shipping as soon as orders come in.
The original recordings, made by Dr. Pierce and Kevin Strom on reel-to-reel tape in 1995, had been digitized in the early 2000s, but that digitization process was primitive compared to what we are capable of today; we have remastered this important work using the latest software — and we did it the careful, slow, difficult, craftsman-like way — the way Dr. Pierce would have wanted it.
We are proud to offer you the result, which can be ordered online via http://natall.com/td or by postal mail from National Alliance, Box 172, Laurel Bloomery TN 37680 USA. The fidelity of the disc is excellent: On a good speaker system, it sounds as if Dr. Pierce is with you, reading his book to you personally. There is nothing quite like hearing the man who created The Turner Diaries read it to you himself. And, by purchasing this mp3-CD, you will be supporting the important work of the National Alliance.
Listen: Turner Diaries commercial
* * *