Jack's War: New Pro-White Action Novel
NEW PRO-WHITE ACTION NOVEL: Jack's War by C.C. Conrad will sweep the action-loving reader off his feet with intense scenes of anti-White murder — and righteous White vengeance. It can awaken partially-conscious Whites to the reality of how they have been deceived and betrayed.
What can a man do when facing total evil?  That is the question asked — and answered — by C.C. Conrad's daring new book, Jack's War: Through the Gates of Hell.
What can Air Force veteran Jack Corr do when inner city savages brutally rape and murder his beautiful fiancée Libby? — When the justice system gives precious little justice? — When the "morality" he was taught his entire life led him to hesitate when he could have saved her? Make war, that's what. War on evil. Jack's War. A war that takes him through the gates of Hell.
WHAT OTHERS ARE SAYING ABOUT THIS BOOK:
"Jack's War  is a shocking, horrifying, extremely violent story of crime, injustice, and vengeance. But after you read it, you will reflect, if you are a thoughtful soul, that it is the reality the book is conjuring through fiction — the reality of modern America — that has shocked and horrified you. You will never be the same again." — The American Mercury
"Jaw-tightening reading…" — The Occidental Observer
"C.C. Conrad has done what almost no other action novelist has dared to do. He gives us, not cartoon cutout characters who tell us what we want to hear and who go through the motions we've seen a thousand times before, but real people facing the same violent, disintegrating society we do, who are not afraid to cut out the rot of the corrupt System, and the rot of their own souls, with a righteous sword." — Kevin Alfred Strom, author and broadcaster
"A fast-moving tale of injustice revenged, or should I say justice obtained… One by one, Jack Corr hunts down and destroys the monsters that murdered his sweetheart and destroyed his life plans. In this process, his town provides 'extra-legal' support, because they too know the score…" — Horus the Avenger radio show
Find out more and read sample sections from Jack's War
* * *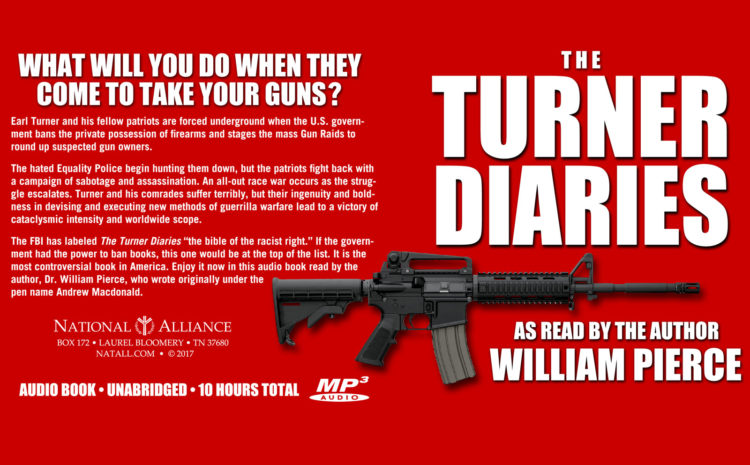 Listen: Turner Diaries commercial
OUR NEW, remastered audio book edition of The Turner Diaries read by the author, Dr. William Pierce, is now available. You can get your copy now — the CDs are are shipping as soon as orders come in.
The original recordings, made by Dr. Pierce and Kevin Strom on reel-to-reel tape in 1995, had been digitized in the early 2000s, but that digitization process was primitive compared to what we are capable of today; we have remastered this important work using the latest software — and we did it the careful, slow, difficult, craftsman-like way — the way Dr. Pierce would have wanted it.
We are proud to offer you the result, which can be ordered online via http://natall.com/td or by postal mail from National Alliance, Box 172, Laurel Bloomery TN 37680 USA. The fidelity of the disc is excellent: On a good speaker system, it sounds as if Dr. Pierce is with you, reading his book to you personally. There is nothing quite like hearing the man who created The Turner Diaries read it to you himself. And, by purchasing this mp3-CD, you will be supporting the important work of the National Alliance.
Listen: Turner Diaries commercial
* * *