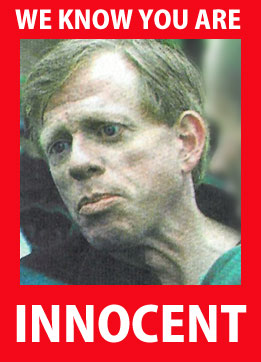 by Kevin Alfred Strom
IN A TRAGIC MISCARRIAGE of justice, a federal jury — which was denied the right to hear two experts' testimony that the alleged FBI recordings of Edgar J. Steele were faked, with over 300 suspicious edits inserted — has convicted the courageous free speech attorney and writer on all four counts related to an alleged murder-for-hire of his wife, Cyndi Steele, and mother-in-law.
None of the alleged victims believe the FBI allegations, instead pointing to the admitted Idaho Pipe Bomber, Larry Fairfax — and his government handlers — as the real source of the plot. Fairfax, who allowed a lethal bomb to remain on Cyndi Steele's car for weeks without telling her, was given a sweetheart deal by prosecutors and no serious charges were brought against him.
It is hoped that the outrageous behavior of the judge in this case — who refused to allow even a few days' delay to let an expert witness travel from the South Pacific to testify for the defense, and also refused to permit the expert to testify via video conference, even though a prosecution witness was freely allowed to do so — will be the basis of a strong appeal.
The judge in question — Lynn Winmill — exhibited an almost unbelievable coldness toward the lives of the real victims, Edgar Steele and his family, when he stated that even a two-day delay to allow the audio expert to travel to the United States was unacceptable — saying of the brief delay only that "procrastination on your part does not constitute an emergency on mine."
Cyndi Steele — who was allowed to hear the doctored recordings early on in the framing of her husband in hopes that she would be deceived by them — has long stated that the audio quality on the recordings changes abruptly and dramatically whenever her husband begins to discuss the alleged plot. When she heard the alleged recordings played back in court, however, she was in for a further shock.
As she puts it: "What is even more outrageous now is that the tapes that they played for the jury in the courtroom this week have been altered, because they are not the same recordings the FBI played for me on June 12, 2010, nor the tapes sent to the attorneys that I again listened to on March 7th. It is as if they used the info from the reports of our experts to make the changes to cover up the falsified tapes our experts analyzed."
May the powers that created the universe — and our people — quickly bring these perjurers and criminals operating under color of law, who have falsely convicted this noble man, to justice; to true justice. And may it happen in our lifetimes.
In the words of Edgar J. Steele: "New America. An idea whose time has come."
* * *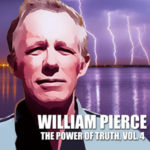 We're now up to Volume 4 of our CD series
William Pierce: The Power of Truth
, which features the very best speeches of National Alliance founder Dr. William Luther Pierce — 20 speeches on each mp3-CD, more than 24 hours total listening time in the series so far. Each CD is $16 and you can order via our postal address or at
http://natall.com/cd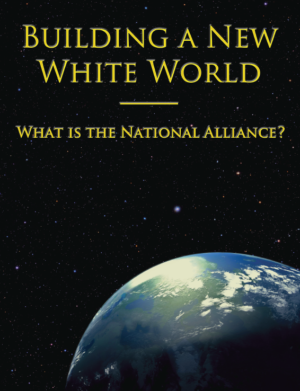 Our beautiful, full-color glossy magazine-style introduction to the National Alliance, Building a New White World, is one of the most powerful ways to introduce your friends and family to the ideas and ideals they need to understand and appreciate in order to take part in shaping a White future. Only the National Alliance has a coherent plan to bring that future into being — and Building a New White World presents that plan impressively, in a way that can never be forgotten. One copy is just $3, ten copies just $15, and additional quantity price breaks are available. Write to our postal address or order online at http://natall.com/booklet
Every day National Alliance members spread the word about the Alliance by distributing our professional, attractive, and colorful National Alliance business cards. On the obverse is the National Alliance logotype and contact information and the words "Toward a New Consciousness; a New Order; a New People." On the reverse are printed the principles in which we believe. Place them on bulletin boards, in select books at public libraries, or hand them out at public events. You can receive 50 business cards for $4, 100 for $6, and 500 cards for $25. Write to our postal address or visit http://natall.com/cards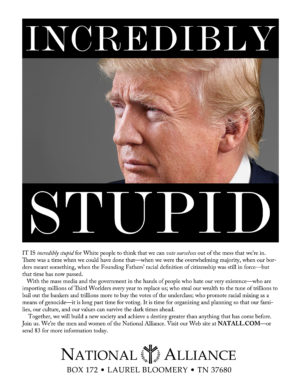 Several excellent National Alliance fliers, with different themes, have been produced and are now available for you to freely download and print — either on your own printer, or at your local print shop in mass quantities. There's our flier on the utter stupidity of hoping for political change through the ballot box; our "They Hate Us" flier on the genocidal intentions of our enemies; our famous "Love Your Race" flier; and many more. Post them — hand them out — fly them on helium balloons — mail them to opinion leaders — everywhere! Make our message impossible to ignore in your state, city, and neighborhood. Just visit http://natall.com/fliers for the complete downloadable National Alliance flier collection.
Our postal address is Box 172, Laurel Bloomery TN 37680 USA.
* * *
Related Articles: