Why Loners Are More Sane and Authentic
This Asian author has hit upon the perennial truth that Ibsen expressed when he said that minorities are often right — and the majority is always wrong.
by Winston Wu
THERE IS A MYTH among the herd that loners are people without social skills. But this is just a copout excuse to ostracize others. The truth is something quite different…
Many loners are people who have discovered how to live an authentic life, inner or outer, and prefer it to the fakeness and pretentiousness of "going through the motions" with others….
Thus, loners tend to be more authentic and sane than popular people, who have to practice being good liars in order to get along with the maximum number of people. The sad truth is that people who tell the truth all the time have few friends. But this is politically incorrect and unpopular to mention. It goes against our [natural tendency] to conform. But many, especially great thinkers and intellectuals, have transcended the need to conform. This sets them apart from the herd. These are the kind of people who make history.
This tends to be more true in fake cultures like the USA and Canada, more so than with more authentic cultures like in Russia, Latin America, parts of Europe, etc. Thus you find the biggest number of loners from the USA or other Western cultures where fakeness is the norm and authenticity is not.
So this begs the question: Are the majority sane or insane?
Most hold the following assumptions:
1) The majority of people are right, normal, sane, friendly and sociable.
2) Misfits and people who don't follow the herd are crazy, insane and weird. They are the problem and to blame for any incompatibility with others.
However, many great thinkers and intellectuals with deep insight, from ages ago to recent times, have seen through this fallacy, and realized that the reverse was true…
What all this means is that if you are even aware of the truth of social realities, you will have the hardest time breaking into cliques in Anglo/Oriental countries, because cliques and groups in [these] rich cultures are full of fakeness and conformity, and one has to be on a similar vibration with the social clique to even have a chance at breaking in (besides playing the tricky social games too). This means that if you are on a "truth vibration" and see things the way they are, you will not be compatible with most cliques….
So the question we must ask is:  What is the value and price of truth, freedom and liberation of mind? And is the price worth it?
Read the full story at ArticlesBase
* * *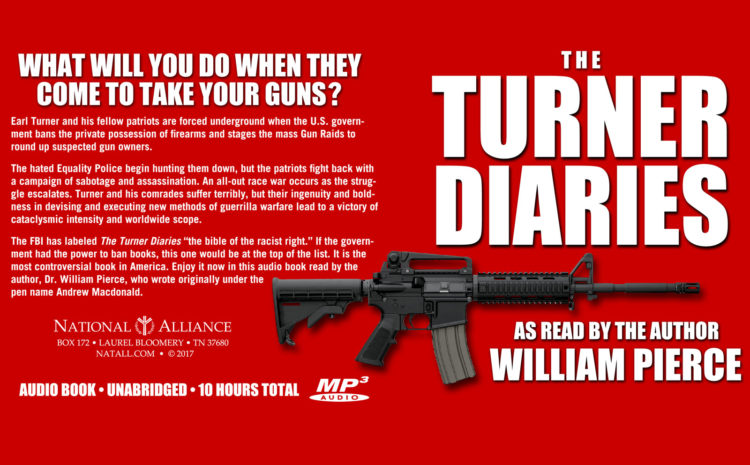 Listen: Turner Diaries commercial
OUR NEW, remastered audio book edition of The Turner Diaries read by the author, Dr. William Pierce, is now available. You can get your copy now — the CDs are are shipping as soon as orders come in.
The original recordings, made by Dr. Pierce and Kevin Strom on reel-to-reel tape in 1995, had been digitized in the early 2000s, but that digitization process was primitive compared to what we are capable of today; we have remastered this important work using the latest software — and we did it the careful, slow, difficult, craftsman-like way — the way Dr. Pierce would have wanted it.
We are proud to offer you the result, which can be ordered online via http://natall.com/td or by postal mail from National Alliance, Box 172, Laurel Bloomery TN 37680 USA. The fidelity of the disc is excellent: On a good speaker system, it sounds as if Dr. Pierce is with you, reading his book to you personally. There is nothing quite like hearing the man who created The Turner Diaries read it to you himself. And, by purchasing this mp3-CD, you will be supporting the important work of the National Alliance.
Listen: Turner Diaries commercial
* * *