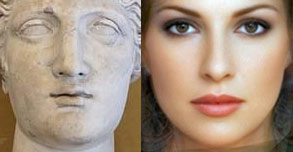 by Dienekes Pontikos
MORPHING is an image processing technique that can be used to create composite pictures summarizing a large number of individual objects. I have applied morphing to a set of facial pictures of Greek women to create an overall average.
The following Greek women were used: Evelina Papantoniou, Niki Kartsona, Katerina Stamataki, Evaggelia Aravani, Chrysanthi Dafla, Elena Katritsi, Alexandra Kapeletzi, Elisavet Filippouli, Elisavet Moutafi, Angie Berovinou, Dimitra Aiginiti, Evi Adam, Korina Stergiadou, Konstantina Nikolaou, Nancy Alexiadi, Katerina Diamantopoulou.
This group includes models, actresses, singers, politicians, and tv presenters. Pictures of women facing forward were selected from Pictures of Greek Women with the criteria of (i) facing forward, (ii) largely unobstructed facial view, (iii) neutral expression, either non-smiling or smiling minimally. Two additional women (Alexiadi and Diamantopoulou) were included to bring the number of seed images to 16.
Hierarchical pairwise morphing was applied to a set of 16 seed women using Sqirlz Morph 1.2e. Pairs of images were morphed by setting up a series of 30-40 control points in each of the original images, and the procedure was repeated hierarchically until a single final composite was created.
No pre-processing was carried out in the original images except resizing, cropping, and sharpening (in Irfanview 3.97). The One Step Photo Fix filter in Jasc Paint Shop Pro v. 9 was applied to the composites (after the entire hierarchical morphing process) to give them a more natural appearance by enhancing contrast and color hues. Images were also subsequently resized, followed by sharpening (in Irfanview). The original final composite, created by the unprocessed raw images can be found here.
Results
The 16 original pictures, the 8 first-generation, 4 second-generation, 2 third-generation, and final composite image are shown below.
Read the source article at the Dienekes Pontikos Web site
* * *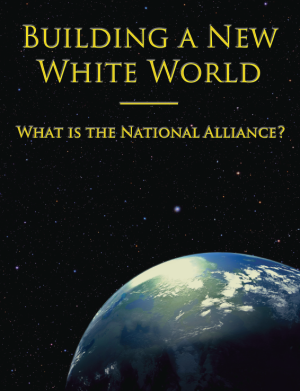 THE NATIONAL ALLIANCE has published a brand-new edition of Building a New White World: What is the National Alliance?
This glossy, full-color magazine-format booklet — a great improvement over all previous editions — is an impressive introduction to the ideas and program of the National Alliance, and is the most powerful recruiting tool we've ever published.
For your copy of Building a New White World, order online using the links below, or send $3 for one copy, 10 for $15, 25 for $30, 100 for $110, to National Alliance, Box 172, Laurel Bloomery TN 37680 USA. Make checks payable to National Vanguard Books.
HOME
Related Articles: