The Banishment of Beauty
by Kevin Alfred Strom
HERE IS AN AMAZING four-part video series (43 minutes total and well worth the time) by the painter Scott Burdick. Don't be put off by the fact that Burdick goes out of his way — way, way out of his way — to show traditional Western art, some of it his own, that depicts non-Whites. It's as if he's saying "see how non-racist I am," to deflect attention from the fact the the rising Art Underground he depicts is substantially Whiter than rural New Hampshire. He nevertheless masterfully skewers the modern art establishment and their hatred for beauty — and their literal banishment of it from their galleries, museums, and literature. With calm logic he analyzes the common characteristics of the paintings that are sought out by these culture-distorters, and those that they reject.
It isn't abstract versus representational art — it isn't nudity, or the human form or its absence — it isn't fine-grained versus rough materials; none of these determine what is accepted and what is rejected. In the "intellectual" theories (with Jewish / Frankfurt School roots, though Burdick doesn't say so) that must be internalized by anyone wishing to rise in the modern art world today, it is beauty itself that must be rejected and ugliness or nothingness which must be praised, especially if the artist pays obeisance to the "intellectuals" and their "theories."
* * *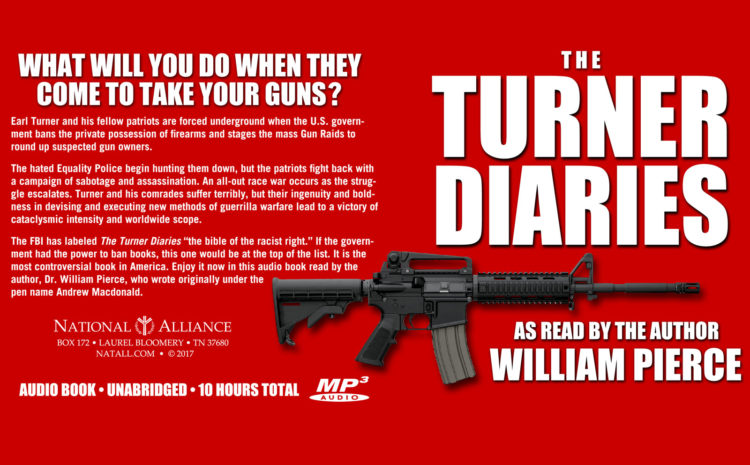 Listen: Turner Diaries commercial
OUR NEW, remastered audio book edition of The Turner Diaries read by the author, Dr. William Pierce, is now available. You can get your copy now — the CDs are are shipping as soon as orders come in.
The original recordings, made by Dr. Pierce and Kevin Strom on reel-to-reel tape in 1995, had been digitized in the early 2000s, but that digitization process was primitive compared to what we are capable of today; we have remastered this important work using the latest software — and we did it the careful, slow, difficult, craftsman-like way — the way Dr. Pierce would have wanted it.
We are proud to offer you the result, which can be ordered online via http://natall.com/td or by postal mail from National Alliance, Box 172, Laurel Bloomery TN 37680 USA. The fidelity of the disc is excellent: On a good speaker system, it sounds as if Dr. Pierce is with you, reading his book to you personally. There is nothing quite like hearing the man who created The Turner Diaries read it to you himself. And, by purchasing this mp3-CD, you will be supporting the important work of the National Alliance.
Listen: Turner Diaries commercial
* * *