He's kidding, I think. — Ed.
by Fernando Pena
THE NEXT TIME you read about an African American or Hispanic who committed a crime, don't blame the African American or Hispanic, instead blame the majority white population. Whites have historically oppressed people-of-color; this has been occurring for hundreds of years. Oppressed people have limited opportunity for education, employment, promotion, advancement, etc. Such oppression unfortunately manifests itself in the form of violent crime. Ultimately, whites are responsible for such crime.
Gangs and Graffiti
Nobody likes street gangs or graffiti. Unfortunately, most street gangs are either Hispanic or African American. However, the reality is that gangs result when whites oppress people-of-color. When a gang member commits a violent crime, the gang member should NEVER be on trial. Instead, the majority white population should be on trial for oppressing minorities… the gang member is the victim and the white population at large is the victimizer.
As a person-of-color myself, it's disheartening to admit that the majority of graffiti in urban America is done by minorities (most studies on graffiti and vandalism show this). However, the next time you drive down the highway and see graffiti, don't blame minority youth for spraying such graffiti. His action is the cumulative effect of white institutionalized oppression. Essentially, it is white oppression which is "spraying" the graffiti, not the young person-of-color. Minorities spray graffiti as a subconscious expression of their oppression. The anger you feel when seeing the ugliness of such graffiti should be directed at white people.
What About Murder?
In the case in which a person-of-color commits murder, there should be some, albeit, limited punishment (perhaps a couple years of prison time). But again, such a crime, as heinous as it is, is ultimately the result of white oppression. Rehabilitation, job training, and housing should be provided to the person-of-color upon his/her release from prison.
Read more from Fernando Pena at Principles of Progressive Politics
*        *        *
Once you stop laughing, take a serious look at the same subject: Racial Violence in America
* * *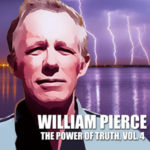 We're now up to Volume 4 of our CD series
William Pierce: The Power of Truth
, which features the very best speeches of National Alliance founder Dr. William Luther Pierce — 20 speeches on each mp3-CD, more than 24 hours total listening time in the series so far. Each CD is $16 and you can order via our postal address or at
http://natall.com/cd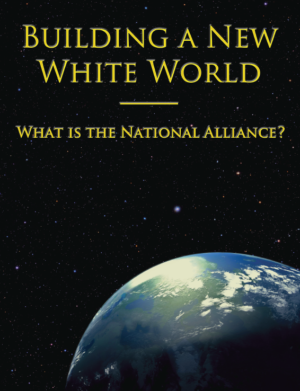 Our beautiful, full-color glossy magazine-style introduction to the National Alliance, Building a New White World, is one of the most powerful ways to introduce your friends and family to the ideas and ideals they need to understand and appreciate in order to take part in shaping a White future. Only the National Alliance has a coherent plan to bring that future into being — and Building a New White World presents that plan impressively, in a way that can never be forgotten. One copy is just $3, ten copies just $15, and additional quantity price breaks are available. Write to our postal address or order online at http://natall.com/booklet
Every day National Alliance members spread the word about the Alliance by distributing our professional, attractive, and colorful National Alliance business cards. On the obverse is the National Alliance logotype and contact information and the words "Toward a New Consciousness; a New Order; a New People." On the reverse are printed the principles in which we believe. Place them on bulletin boards, in select books at public libraries, or hand them out at public events. You can receive 50 business cards for $4, 100 for $6, and 500 cards for $25. Write to our postal address or visit http://natall.com/cards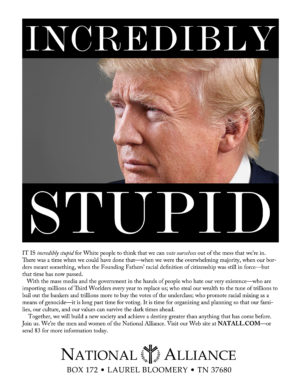 Several excellent National Alliance fliers, with different themes, have been produced and are now available for you to freely download and print — either on your own printer, or at your local print shop in mass quantities. There's our flier on the utter stupidity of hoping for political change through the ballot box; our "They Hate Us" flier on the genocidal intentions of our enemies; our famous "Love Your Race" flier; and many more. Post them — hand them out — fly them on helium balloons — mail them to opinion leaders — everywhere! Make our message impossible to ignore in your state, city, and neighborhood. Just visit http://natall.com/fliers for the complete downloadable National Alliance flier collection.
Our postal address is Box 172, Laurel Bloomery TN 37680 USA.
* * *
Related Articles: