House Democrats: Free Jewish Spy
MEMBERS OF CONGRESS have sought to drum up support for a proposal for President Barack Obama to free a U.S. Navy analyst imprisoned since 1985 on charges of relaying classified data to Israel.
Members of the Democratic majority have been circulating a letter that called for the release of Jonathan Pollard (pictured). The letter called on Obama to free Pollard in an effort to promote peace talks between Israel and the Palestinian Authority….
The letter was drafted in late September and organized by Rep. Barney Frank, Rep. Bill Pascrell, Rep. Edolphus Towns and Rep. Anthony Weiner, Middle East Newsline reported. The House Democrats asserted that clemency for Pollard would demonstrate U.S. support and encourage Israel to take risks for peace.
In 1986, Pollard, despite reaching a plea bargain, was sentenced to life in prison. His sentence was scheduled for review in 2015.
Read the full article at the World Tribune
Addendum: Video from Dr. David Duke's report on Pollard:
WHAT YOU SEE here is rarely caught on tape — a spy in action.
"This is Pollard actually in the act of stealing highly classified information," says formal Naval investigator Ron Olive. "1500 top secret documents in a matter of seconds."
Olive helped catch Jonathan Pollard and has written a book about the Navy intelligence analyst who spied for Israel.
NBC News has obtained surveillance video, which for the first time, actually shows Pollard pilfering classified documents and stuffing them into a briefcase supplied by Israel.
When a co-worker walks by, Pollard reaches to close his drawer, then resumes what's he's doing.
"That tells us that he knows that he is stealing," says Olive.
Soon, the briefcase is so full Pollard has trouble closing it! But eventually he succeeds and walks out the door with some of America's most sensitive secrets. (See Video Here)
* * *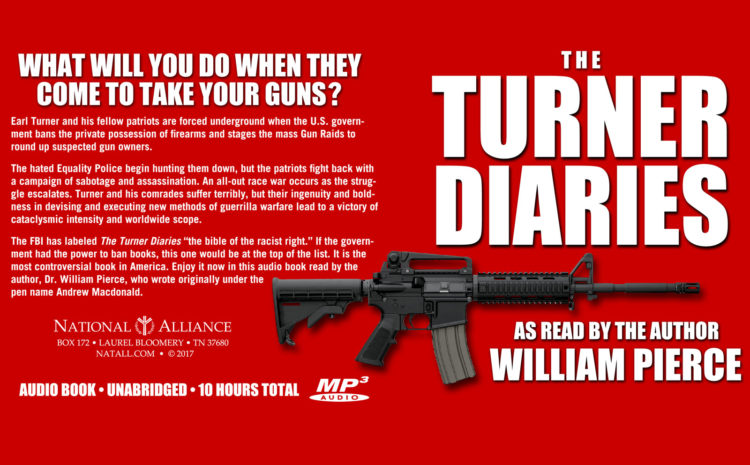 Listen: Turner Diaries commercial
OUR NEW, remastered audio book edition of The Turner Diaries read by the author, Dr. William Pierce, is now available. You can get your copy now — the CDs are are shipping as soon as orders come in.
The original recordings, made by Dr. Pierce and Kevin Strom on reel-to-reel tape in 1995, had been digitized in the early 2000s, but that digitization process was primitive compared to what we are capable of today; we have remastered this important work using the latest software — and we did it the careful, slow, difficult, craftsman-like way — the way Dr. Pierce would have wanted it.
We are proud to offer you the result, which can be ordered online via http://natall.com/td or by postal mail from National Alliance, Box 172, Laurel Bloomery TN 37680 USA. The fidelity of the disc is excellent: On a good speaker system, it sounds as if Dr. Pierce is with you, reading his book to you personally. There is nothing quite like hearing the man who created The Turner Diaries read it to you himself. And, by purchasing this mp3-CD, you will be supporting the important work of the National Alliance.
Listen: Turner Diaries commercial
* * *