This is what we dream of: a White nation, beautiful, united, powerful, unstoppable.
by Kevin Alfred Strom
THESE BEAUTIFUL patriotic anthems of the Estonian people speak for themselves. White Americans are also capable of such heights of beauty and unity and high culture, but we must first awaken from our nightmare of ugly "equality" and rediscover the nobility within us — rediscover our true selves.
Relatively untouched by multiracialism, Estonia's national story is one of great struggle against oppression and occupation. The Estonians' struggle has heightened their sense of national identity.
The tradition of Estonian Song Festivals (Laulupidu) started at the height of the Estonian national awakening in 1869. Today, it is one of the largest amateur choral events in the world, as the joint choir usually comprises 18,000 people. In 2004, a total of 34,000 participated in the Song Festival, held before an audience of 200,000. Since 1928, the Tallinn Song Festival Grounds (Lauluväljak) host the event every five years in July. The next festival will take place in 2014. In addition, Youth Song Festivals are held in every five years, last of them in 2007. (Wikipedia)
Estonia was occupied by the Evil Empire of its day, the Soviet Union, from the end of World War 2 until 1991. Music and song were powerful forces in the struggle for independence, so much so that it is often referred to as The Singing Revolution:
From 1987, a cycle of mass demonstrations featuring spontaneous singing eventually collected 300,000 Estonians in Tallinn to sing national songs and hymns that were strictly forbidden during the years of the Soviet occupation, as Estonian rock musicians played.
On 14 May 1988, the first expression of national feeling occurred during the Tartu Pop Music Festival. Five patriotic songs were first performed during this festival. People linked their hands together and a tradition had begun.
In June the Old Town Festival was held in Tallinn, and after the official part of the festival, the participants moved to the Song Festival Grounds and similarly started to sing patriotic songs together spontaneously.
On 26–28 August 1988, the Rock Summer Festival was held, and patriotic songs, composed by Alo Mattiisen, were played.
On 11 September 1988, a massive song festival, called "Song of Estonia," was held at the Tallinn Song Festival Arena. This time nearly 300,000 people came together, more than a quarter of all Estonians. On that day political leaders were participating actively, and were for the first time insisting on the restoration of independence.
On 16 November 1988, the legislative body of Estonia issued the Estonian Sovereignty Declaration. In 1990 Estonia had been the first Soviet republic to defy the Soviet army by offering alternative service to Estonian residents scheduled to be drafted. Most Estonians, however, simply began avoiding the draft.
The Singing Revolution lasted over four years, with various protests and acts of defiance. In 1991, as Soviet tanks attempted to stop the progress towards independence, the Estonian Supreme Soviet together with the Congress of Estonia proclaimed the restoration of the independent state of Estonia and repudiated Soviet legislation. People acted as human shields to protect radio and TV stations from the Soviet tanks. Through these actions Estonia regained its independence without any bloodshed. (Wikipedia)
Wikipedia's editors also note "Estonia has one of the highest level of irreligious individuals in the world; nearly three-quarters of the population stating no specific religious affiliation in 2000." What the editors and pollsters may have missed is that this may be a sign of an underlying skepticism about the imported Middle Eastern religion imposed by Estonia's invaders over the years. Absence of such imposed alien spiritual ideas gives free reign to the genuine spirituality of the race, which, I think, is expressed in this magnificent music.
In the YouTube comment section for the first video (which unfortunately has an audio dropout right at the end), I noticed that about half of the comments were from racially conscious — and obviously inspired — White people. A few excerpts:
'Civilisations, the products of race, have been maintained only so long as the race which created them has maintained racial integrity…'
'Nations exist because they include certain people & exclude others. If they are all-inclusive, they destroy themselves and have no homeland…'
'This video depicts white Europeans who are proud of their culture and their race. In most of the West a display like this would be condemned as "racist" or "xenophobic." The Estonians apparently haven't been infected with the Marxist, muticulturalist, Jewish plague — at least not yet.'…
'"Racism" is an invention of the Marxists intended to disarm their enemies. But, don't be too confident, the Zeitgeist can be transformed and more and more whites are becoming aware.'…
'Scandinavians, shut up about your stupid internal quarrels and unite against the hordes of the abyss…'
'God bless the Estonian people, and I thank them for the inspiration. I sense a pendulum swing. This video gives me hope for the future against the forces of darkness attempting to surround us.'

'Let's hope these people aren't as stupid as us; as weak; as selfish; as individualistic; and pathetic. My race, the English, are the most pathetic race in all white Europe. We do nothing, absolutely nothing to protect our race. The English are on their way out. Nature always prevails in the end: the strong survive. Don't let these hordes in, never… Remove them all!'
What a refreshing glimpse into a new and better world these songs are! If we do right, they are a glimpse of our future.
* * *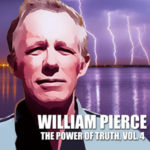 We're now up to Volume 4 of our CD series
William Pierce: The Power of Truth
, which features the very best speeches of National Alliance founder Dr. William Luther Pierce — 20 speeches on each mp3-CD, more than 24 hours total listening time in the series so far. Each CD is $16 and you can order via our postal address or at
http://natall.com/cd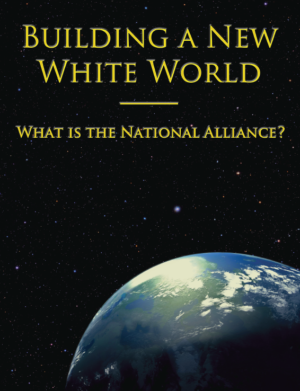 Our beautiful, full-color glossy magazine-style introduction to the National Alliance, Building a New White World, is one of the most powerful ways to introduce your friends and family to the ideas and ideals they need to understand and appreciate in order to take part in shaping a White future. Only the National Alliance has a coherent plan to bring that future into being — and Building a New White World presents that plan impressively, in a way that can never be forgotten. One copy is just $3, ten copies just $15, and additional quantity price breaks are available. Write to our postal address or order online at http://natall.com/booklet
Every day National Alliance members spread the word about the Alliance by distributing our professional, attractive, and colorful National Alliance business cards. On the obverse is the National Alliance logotype and contact information and the words "Toward a New Consciousness; a New Order; a New People." On the reverse are printed the principles in which we believe. Place them on bulletin boards, in select books at public libraries, or hand them out at public events. You can receive 50 business cards for $4, 100 for $6, and 500 cards for $25. Write to our postal address or visit http://natall.com/cards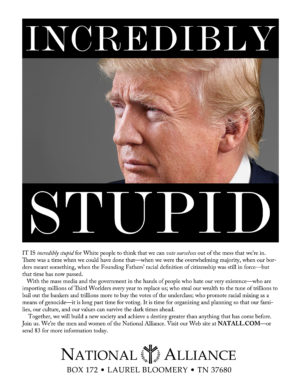 Several excellent National Alliance fliers, with different themes, have been produced and are now available for you to freely download and print — either on your own printer, or at your local print shop in mass quantities. There's our flier on the utter stupidity of hoping for political change through the ballot box; our "They Hate Us" flier on the genocidal intentions of our enemies; our famous "Love Your Race" flier; and many more. Post them — hand them out — fly them on helium balloons — mail them to opinion leaders — everywhere! Make our message impossible to ignore in your state, city, and neighborhood. Just visit http://natall.com/fliers for the complete downloadable National Alliance flier collection.
Our postal address is Box 172, Laurel Bloomery TN 37680 USA.
* * *
Related Articles: