Crisis and Opportunity
by Samuel J. Phillips
WHITE ADVOCATES are the most despised minority in the world.  Throughout the post-West, "racist" is used as a slur by both conservatives and progressives.  Even loose affiliations with proscribed figures or organizations can doom a political career.  The vast majority of whites, out of fear, desire for conformity, or sincere conviction, believe that "racism" is a sin perhaps only rivaled by murder.  Racism may actually be worse, as even serial killer and cannibal Jeffrey Dahmer thought it was important that people knew he was no racist and didn't choose his victims for that reason.  If it is suspected that you are a racist, family members, friends, and colleagues may shun or even attack you.  Even the most capable and effective of the few spokesmen for white advocacy are either smeared or ignored by the mainstream media.
Nonetheless, white advocates dominate political discourse in the United States today.  Almost every issue, movement, and political figure is analyzed not on its own terms, but as a possible indicator of white racial consciousness and explicit white political mobilization.
The most important development in contemporary politics is the growth of the "Tea Party" movement.  This is the name given to a loose affiliation of many independent groups unified around an agenda of opposition to President Obama's economic policies, concern over the rapidly expanding federal debt, and anxiety over violations of the Constitution.  The problems with this movement from a white advocacy perspective are obvious.  The group is focused on narrow fiscal concerns, ruthlessly purges any hint of explicit racial consciousness, and is funded and resourced by the usual open borders corporate elites such as Dick Armey or the Koch brothers.  Many leading spokespeople of the movement, such as Glenn Beck, Ron Paul, and Sarah Palin, differ on critical issues such as foreign policy and immigration but are all united in their effusive reverence for Martin Luther King Jr. In responding to charges of racism, Tea Party leaders look for minorities to put behind the speakers' podium rather than attacking or even just dismissing the charge itself.
Even admitting all that, it is impossible not to view the rise of the Tea Parties as a powerful example of implicit white racial consciousness.  Some white advocates read into the Tea Party movement a racial consciousness that they think already exists, but is merely submerged.  White advocate and webmaster of White News Now Jamie Kelso claimed "Every time I yelled 'We want our country back!', I am sure that 99% of the 99% White crowd that responded so enthusiastically to that chant UNDERSTOOD that the 'we' and the 'our' in 'we want our country back!' was (and is) our White people."   Pat Buchanan noted in his July 22 syndicated column, "For the first time in our lifetimes outside the South, white racial consciousness has visibly begun to rise."  Progressives, for their own reasons, share this interpretation and casually and gleefully link the Tea Party to "Klansman," "white supremacy," and of course, "white privilege."
Read the full article in The Occidental Quarterly
* * *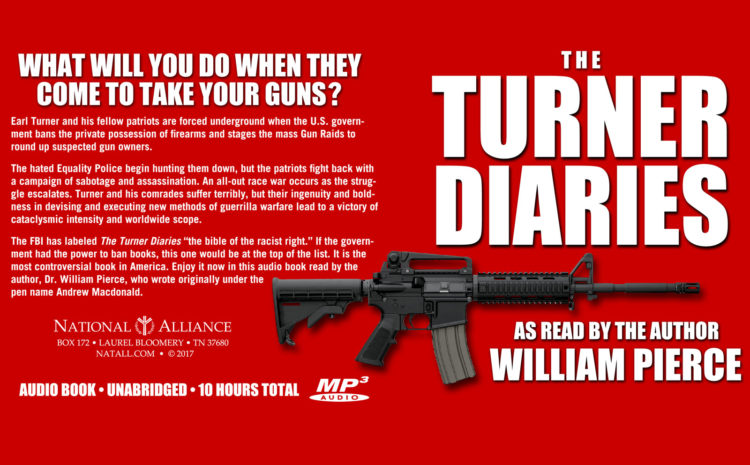 Listen: Turner Diaries commercial
OUR NEW, remastered audio book edition of The Turner Diaries read by the author, Dr. William Pierce, is now available. You can get your copy now — the CDs are are shipping as soon as orders come in.
The original recordings, made by Dr. Pierce and Kevin Strom on reel-to-reel tape in 1995, had been digitized in the early 2000s, but that digitization process was primitive compared to what we are capable of today; we have remastered this important work using the latest software — and we did it the careful, slow, difficult, craftsman-like way — the way Dr. Pierce would have wanted it.
We are proud to offer you the result, which can be ordered online via http://natall.com/td or by postal mail from National Alliance, Box 172, Laurel Bloomery TN 37680 USA. The fidelity of the disc is excellent: On a good speaker system, it sounds as if Dr. Pierce is with you, reading his book to you personally. There is nothing quite like hearing the man who created The Turner Diaries read it to you himself. And, by purchasing this mp3-CD, you will be supporting the important work of the National Alliance.
Listen: Turner Diaries commercial
* * *