Stalin Killed Millions: Was It Genocide?
When it comes to use of the word "genocide," public opinion has been kinder to Stalin than Hitler. But one historian looks at Stalin's mass killings and urges that the definition of genocide be widened.
by Cynthia Haven
Mass killing is still the way a lot of governments do business.
The past few decades have seen terrifying examples in Rwanda, Cambodia, Darfur, Bosnia.
Murder on a national scale, yes – but is it genocide? "The word carries a powerful punch," said Stanford history Professor Norman Naimark. "In international courts, it's considered the crime of crimes."
Nations have tugs of war over the official definition of the word "genocide" itself – which mentions only national, ethnic, racial and religious groups. The definition can determine, after all, international relations, foreign aid and national morale. Look at the annual international tussle over whether the 1915 Turkish massacre and deportation of the Armenians "counts" as genocide.
Naimark, author of the controversial new book Stalin's Genocides, argues that we need a much broader definition of genocide, one that includes nations killing social classes and political groups. His case in point: Stalin.
The book's title is plural for a reason: He argues that the Soviet elimination of a social class, the kulaks (who were higher-income farmers), and the subsequent killer famine among all Ukrainian peasants – as well as the notorious 1937 order No. 00447 that called for the mass execution and exile of "socially harmful elements" as "enemies of the people" – were, in fact, genocide.
"I make the argument that these matters shouldn't be seen as discrete episodes, but seen together," said Naimark, the Robert and Florence McDonnell Professor of Eastern European Studies and a respected authority on the Soviet regime. "It's a horrific case of genocide – the purposeful elimination of all or part of a social group, a political group."
Stalin had nearly a million of his own citizens executed, beginning in the 1930s. Millions more fell victim to forced labor, deportation, famine, massacres, and detention and interrogation by Stalin's henchmen.
"In some cases, a quota was established for the number to be executed, the number to be arrested," said Naimark. "Some officials overfulfilled as a way of showing their exuberance."
Read the full article at Standford University News
* * *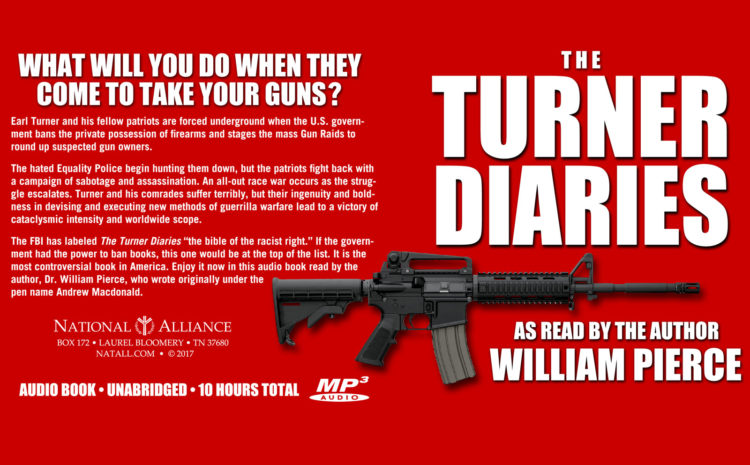 Listen: Turner Diaries commercial
OUR NEW, remastered audio book edition of The Turner Diaries read by the author, Dr. William Pierce, is now available. You can get your copy now — the CDs are are shipping as soon as orders come in.
The original recordings, made by Dr. Pierce and Kevin Strom on reel-to-reel tape in 1995, had been digitized in the early 2000s, but that digitization process was primitive compared to what we are capable of today; we have remastered this important work using the latest software — and we did it the careful, slow, difficult, craftsman-like way — the way Dr. Pierce would have wanted it.
We are proud to offer you the result, which can be ordered online via http://natall.com/td or by postal mail from National Alliance, Box 172, Laurel Bloomery TN 37680 USA. The fidelity of the disc is excellent: On a good speaker system, it sounds as if Dr. Pierce is with you, reading his book to you personally. There is nothing quite like hearing the man who created The Turner Diaries read it to you himself. And, by purchasing this mp3-CD, you will be supporting the important work of the National Alliance.
Listen: Turner Diaries commercial
* * *